There have been a lot of advancements in home safety and personal security. As technology advances, security devices become simpler, more effective, and easier to use.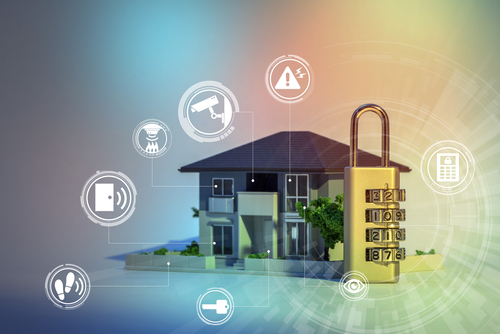 Below are ten high-tech devices you might want to consider adding to your home, person, or vehicle to make your family and belongings that much more secure.
Ring
$199
Ring is a home security device for the modern age. It combines a doorbell with a high-definition camera, a speaker, and a microphone. When someone rings the bell, you have the option of answering it with Ring's smartphone app, wherever you are in the world. You can see who is there and speak with them as if you were home!
Peeple Peephole
$149
Peeple is an upcoming camera that mounts to your apartment's peephole and allows you to monitor who is at your door through your connected smartphone via the internet. It is simple to install and uses your existing peephole hardware.
Canary
$199
Canary is a one-piece, all-inclusive home security device. It packs high-definition video and audio, accessible 24/7 from anywhere you happen to be. It alerts if motion is detected, has a 90-decibel siren that you can control remotely, can monitor air quality, and even see in the dark! It backs up to the cloud for your peace of mind. Use it to protect your house or monitor your pets while you're away – it can connect you to your local 911 responders for assistance.
Alfred Security App
(Android) – Free
Don't want to pay for a security system, but you have an old Android phone lying around? Download Alfred. It turns any WiFi-connected Android phone into a security camera (with sound!), viewable from another smartphone or computer anytime, anywhere. Alfred also offers motion detection and push notifications, as well as two-way-talk and the ability to take a snapshot any time.
Nest Cam
$199
The Nest Cam is another connected camera, offering HD video, audio, speaker, and motion detection. The difference with the Nest Cam is that it has cloud services and advanced motion detection as an add-on feature, with the ability to tell the difference between moving branches and someone entering your house. It also features the ability to pair with other Nest devices for added functionality, including the Nest Thermostat and the Nest Protect (below).
Nest Protect
$99
The Nest Protect is an advanced smoke and CO2 detector. It can be connected to the internet through your home router and alert you via your smartphone with any warnings. In case of a false detection (when you burn your food, for instance), a wave of a hand or towel turns the alarm off. In addition, it connects to the Nest Cam to show you images in case of a smoke detection alert. The Nest Protect is one of the best home security devices you can get for peace of mind. The nest comes in battery-only and hardwired power options.
Samsung SmartThings Home Automation Hub
$99 + Sensors / Accessories
This hub is a home automation marvel. It can connect many different sensors to help you monitor, maintain, and secure your home. It can help prevent water damage with a water leak sensor, detect motion with a motion sensor, control lights and make it look like you're home when you're actually away, among many others!
August Smart Lock
$199
The August Smart Lock can make your home safer and more convenient without changing the outward appearance of your door hardware. Working with your standard deadbolt, the August Smart Lock replaces the interior deadbolt knob plate with a Bluetooth-enabled, battery-driven, internet-connected lock controller. You can track who comes and goes, you can hand out digital keys with time controls, you can even check if you forgot to lock it and do so from your phone with the app! The August Smart Lock even knows when you're approaching the door and unlocks for you!
Magellan RoadMate 6230 Dashcam Navigator
$199
Today, more than ever, you need to protect your vehicle and your liability. To help avoid theft, insurance fraud, and false accusations, you need a dashboard camera.
The Magellan RoadMate 6230 combines a GPS unit and a dashcam, which automatically records high definition video as you drive. A built-in accelerometer senses if there's been a collision and locks video, audio, time, and location for an accurate recount of events. It can even be paired with a back-up camera.
If you want just a dashcam without navigation, check out the highly-rated Falcon ZeroF170 ($149)
C-Slide Webcam Cover
$6
This is a low-tech solution to a high-tech problem. It's easier than you think for an outsider to gain control of your computer's webcam without you knowing it. Upon gaining control, they can take photos and record video of whatever your webcam is pointing at. For a mere $6, you can get a thin, stick-on, sliding webcam cover and protect your privacy.
Check out our Top Online Cyber Security Degree Program Ranking
Home
Rankings
Features
Resources
About Us
Contact Us