Sanctuary Cities and National Security graphic explores how the practice of some communities, called sanctuary cities, refusing to aid in federal deportation efforts, impacts national security and safety.
---

Share this infographic on your site!
Featured Schools
---
Sanctuary Cities and National Security
How does the practice of some communities, called sanctuary cities, refusing to aid in federal deportation efforts, impact national security and safety?
What Is a Sanctuary City?
It is a state, county, or also city where law enforcement will not inquire about the immigration status of a criminal suspect. Additionally, they have a set of guidelines under which they will not notify federal immigration officials before a suspect's release. Usually, those guidelines are based on the person's previous offenses (if any).
Examples of sanctuary cities:
Boston
Chicago
Denver
Las Vegas
Los Angeles
Miami
Milwaukee
Minneapolis
New Orleans
New York
Philadelphia
San Francisco
Seattle
Washington, D.C.
---
How many sanctuary cities are there?
That depends on your political leanings.
276 – Center for Immigration Studies (pro-immigration restrictions)
360 – Immigration Legal Resource Center (anti-stronger enforcement)
---
Illegal Immigration and Crime
So, how does illegal immigration impact the crime rate? Again, the numbers are less than clear.
Number of illegal immigrants in US by year
1990: 3.5 million
2013: 11.2 million
Over that same period, the national violent crime rate dropped 48%.
9.2% – Percentage of federal murder convictions in 2013 against undocumented immigrants (3)
That number by itself is scary, but consider that it comes from only 8 cases, as few murders are prosecuted at the federal level.
Incarceration rate per 100,000 population
Foreign-born: 297
U.S.-born: 813
But even this number is somewhat misleading, as it includes both legal immigrants and those here illegally.
Illegal Immigration and National Security
Whatever the statistics on crime and immigration, the shooting death of a woman in San Francisco has raised new concerns about illegal immigration and how it affects national security and safety.
32-year-old Kathryn Steinle died after being struck in the chest by a stray bullet while walking along a busy street. Mexican native Francisco Sanchez is charged with murder in Steinle's death. Additionally, officials reported Sanchez was deported multiple times before the shooting.
Local authorities released Sanchez a few months before the shooting and dropped the drug charge.
5 – Times Sanchez was deported to Mexico
7 – Felony convictions Sanchez has since 1991
Effectiveness of Sanctuary Cities
Many sanctuary cities are notably left-leaning, like San Francisco. But others don't honor federal immigration hold requests for legal reasons. A federal court ruling said immigration detainers, which ask local police to place up-to-48-hour holds on immigrants suspected of being in the U.S. illegally, were not sufficient reasoning to keep someone in jail.
Deportations of illegal immigrants are up overall but have stalled out for those with criminal records.
---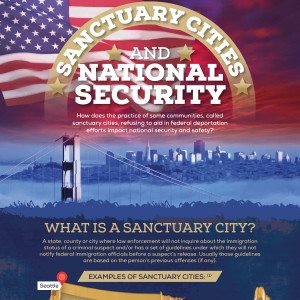 ---
Related: