by Rick Dandes
The current immigration crisis involving adults, and tens of thousands of accompanied and unaccompanied minors from Central America illegally crossing the U.S. border has injected chaos into national and border state politics. It has even split immigration-reform supporters in both political parties in advance of this year's congressional midterm elections, and complicated efforts by President Barack Obama and Congress to respond to the emergency.
[Tweet "Resources on the border are being stretched thin"]
By law, the U.S. Department of Health and Human Services (HHS) must take custody and provide care for unaccompanied foreign children who illegally enter the United States from countries that do not border the United States. That law, the William Wilberforce Trafficking Victims Protection Reauthorization Act of 2008, calls for the deportation of most child migrants from Mexico and Canada when they are apprehended at the border. The 2008 law was designed to prevent human trafficking and reduce the risk of abduction and exploitation. But what the law did not anticipate were refugees entering the U.S. from other countries not bordering the U.S.
Since the crisis began, there has been a complex resettlement process for these other children — who are mostly from Guatemala, El Salvador, and Honduras. They are first held at border patrol facilities for a maximum of 72 hours for screening.
After that, the Department of Homeland Security (DHS) must hand them over to the Office of Refugee Resettlement (ORR) for placement under its Unaccompanied Alien Children Program, which includes such options as foster care, transfer to a relative in the United States (if available), or deportation back to the child's home country. But resources on the border are being stretched thin. Although an estimated 90,000 unaccompanied minors expected to cross over into the U.S. this year, HHS said they only run 100 permanent and temporary shelters for those minors, until they can be placed with sponsors in the U.S.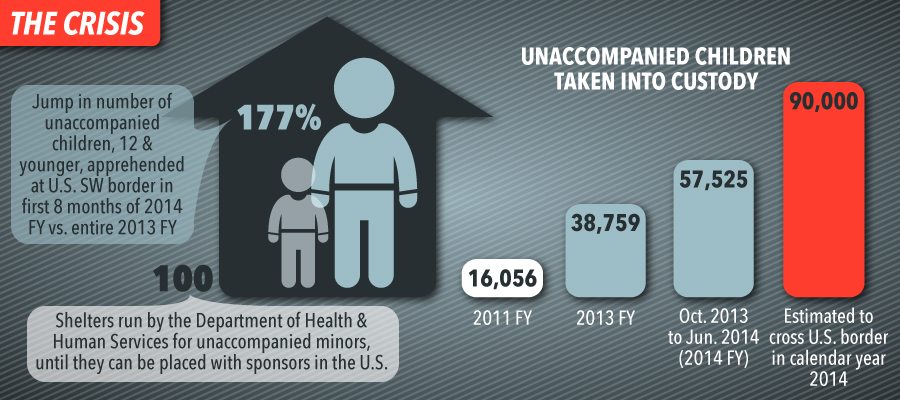 Although the current spotlight on illegal immigration is focused on the large number of unaccompanied children from Central America, the problem, according to several U.S. congressmen, is more widespread. Rep. Lou Barletta, of Pennsylvania, an outspoken critic of President Obama's immigration policy, has personally told this writer, over the course of several phone interviews, that "terrorism" is chief among his concerns. Barletta is extremely concerned about "lone wolf" older terrorists inspired by the organization known as ISIS, slipping across the border unnoticed. He also has noted other nations from which immigrants were caught entering the United States illegally in 2014:
• 1,443 people from China were apprehended while crossing the U.S. border so far this year, with an additional 1,803 people either turning themselves in to U.S. authorities at official ports of entry, or being caught attempting to illegally enter at the ports of entry.
• 28 individuals from Pakistan were apprehended while crossing the U.S. border this year, with another 211 individuals either turning themselves in or being caught at official ports of entry.
• 13 Egyptians were apprehended while crossing the U.S. border this year, with another 168 either turning themselves in or being caught at official ports of entry.
• 4 individuals from Yemen were apprehended while crossing the U.S. border in 2014, with another 34 individuals either turning themselves in or being caught attempting to illegally enter at the ports of entry.
• 4 Somalians were caught while crossing the U.S. border in 2014. Another 290 either turned themselves in or were apprehended at official ports of entry.
U.S. immigration policy has been a touchstone for political debate for decades, Most recently, the debate has focused on how to streamline a heavily bureaucratic visa application process and address the millions of undocumented immigrants already in the United States—particularly young people brought here by their parents—as well as implementing policy at the local level without jeopardizing public trust within immigrant communities.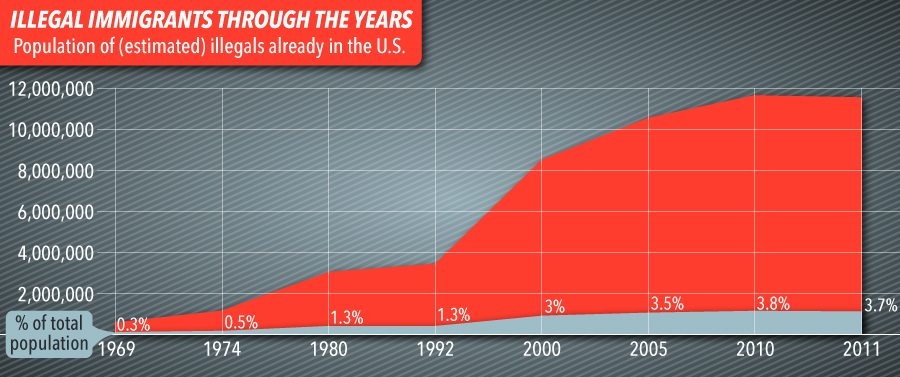 While the argument has been made that current immigration policy poses an imminent threat to U.S. national security, drawing a relationship between immigration and terrorism and increased crime, there are those who see immigration as a threat to the language and culture, destroying the sense of nationhood. Still others believe immigrants, particularly illegal immigrants, are an economic threat, taking jobs from U.S. citizens, and straining housing, education, and transportation facilities.
What is most alarming is the cost of illegal immigration at the federal, state and local levels.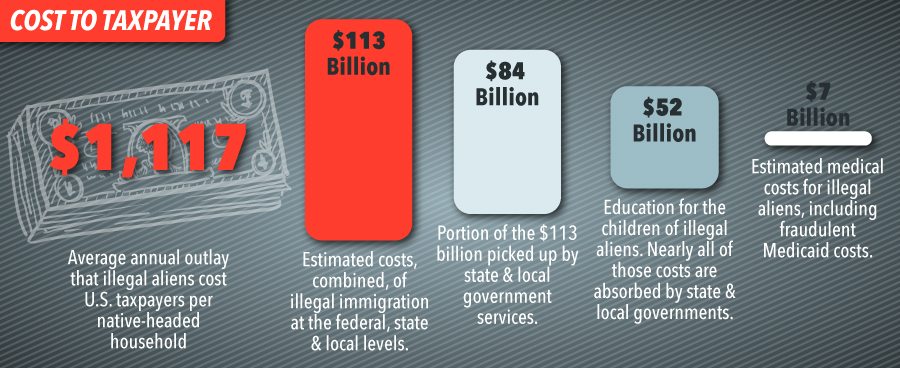 No one argues that legal immigration is a bad thing. This is a nation of immigrants. A strong argument can be made that immigration bolsters our national security. Access to talent in a properly-regulated immigration system strengthens American resources in science and the humanities. Examples abound of American-immigrant Nobel laureates, renowned inventors, business leaders, and scientists who have made immeasurable contributions to our prosperity.
Sources and Further Reading:
http://www.dhs.gov/publication/us-lawful-permanent-residents-2013
http://www.fairus.org/united-states
http://cis.org/ICE-Illegal-Immigrant-Deportations
https://www.utexas.edu/lbj/uscir/respapers/ii-oct97.pdf
U.S. Commission on Immigration Reform 1995:23/
http://bipartisanpolicy.org/projects/immigration-task-force/demographic-infographic
http://www.dhs.gov/sites/default/files/publications/ois_lpr_fr_2013.pdf
http://www.pewhispanic.org/2011/02/01/unauthorized-immigrant-population-brnational-and-state-trends-2010/
http://www.cbp.gov/newsroom/stats/southwest-border-unaccompanied-children
Pew Research Center: source for facts on the current border immigration crisis in the U.S.