The State of Modern Security graphic explains the price of security in the post-9/11 age is paid for not just in dollars and our freedom.

Share this infographic on your site!
---
The Decline of Personal Freedom: The State of Modern Security
America: Home of the brave, land of the free, right? Well, brave or not, freedom is becoming more and more difficult to come by. The price of security in the post-9/11 age is paid for not just in dollars (more than $100 billion per year in anti-terrorism spending alone, by the way).
No, the biggest price of security, or only simply the feeling that it exists, is our freedom. Here's a glimpse at some of the ways making things a little safer in America has led to making us a lot less free.
Airline Security
There was a time when airplane hijacking was a common concern for American travelers. Between May 1961 and January 1973, nearly 160 planes were hijacked,(14) for a variety of reasons, from ransom to simply wanting to go someplace else. But in more recent decades, and especially after 9/11, the main security concern has been terrorism.
1961 – The U.S. began placing armed guards on commercial flights, upon request.
1969 – The Federal Aviation Administration instituted the use of psychological profiling of possible terrorists as well as metal detectors to screen passengers and luggage.
1970 – The sky marshal program was initiated, placing undercover, armed officers aboard international flights. (1)
1972 – FAA required all airports to screen all passengers and carry-on luggage with metal detectors, X-ray screening or search by hand; also required armed guards to be stationed at boarding checkpoints.
1988 – X-ray and hand search requirements were expanded to include all checked bags in addition to carry-ons.
1998 – Airlines adopted computer-aided screening, a profiling method that required passengers who met certain criteria to be selected and screened in private before boarding flights. 100%+ – Annual employment turnover rate at most major airports before 9/11
2001 – Following Sept. 11 attacks, the Aviation Transportation Security Act transferred the responsibility of airport security to the U.S. government with the establishment of the Transportation Security Association.
TSA restrictions imposed, 14 years after 9/11: Only ticketed passengers allowed through security, Enhanced passenger and luggage screening, including mandatory magnetic imaging or increasingly invasive hand searches, Liquids regulated in carry-on luggage, Items like box cutters prohibited
2014 – 653 million + Passengers were screened by the TSA in 2014. That's about 1.8 million per day, more than the population of Philadelphia.
Event Security
After three people were killed and 264 injured in the 2013 Boston Marathon bombings, security at such events was heightened. The following items were banned:
Bags
Backpacks
Large signs
Masks or costumes covering the face
Bulky clothing
NFL: Not For Luggage
In 2013, the NFL instituted a no-large-bag policy, allowing fans at games to bring into the stadium only clear plastic or PVC bags that easily display their contents.
School Security
A series of high-profile shootings have led to heightened security measures at schools around the country.
1999 – Eric Harris, 18, and Dylan Klebold, 17, killed 12 students and one teacher and wounded more than 20 others before killing themselves at Columbine High School in Littleton, Colorado.
2001 – Charles "Andy" Williams, 15, killed two students and injured 13 others in a shooting at his high school in Santee, California. He was sentenced to 50 years to life in prison.
2005 – Jeff Weise, 16, killed his grandfather and a companion of his grandfather's, then killed five students, a teacher and a security guard at Red Lake Senior High School in Minnesota before killing himself.
2006 – Truck driver Charles C. Roberts, 32, killed five female students in a one-room Amish schoolhouse in Nickel Mines, Pennsylvania, before taking his own life. (6)
2007 – Seung-Hui Cho, 23, killed two people in a Virginia Tech dorm in Blacksburg, Virginia, and a couple of hours later, killed 30 more people inside an academic building before shooting himself.
2012 – Adam Lanza, 20, killed his mother in their home, and then went to nearby Sandy Hook Elementary School in Newtown, Connecticut, where he killed 26 more people, including 20 first-graders, before killing himself.
Percentage of public schools using selected measures, 2011–12
Control access to the building during school hours: 88%
Security cameras monitor school: 64%
Enforce strict dress code: 49%
Random checks for drugs using sniffer dogs: 24%
Random sweeps for contraband: 12%
National Security
There can be no doubt that 9/11 forever changed the state of security in the U.S.
130 – Number of bills related to 9/11 introduced by Congress, including the Patriot Act, within a year of the attacks (8)
263 – Government agencies created or transformed in the wake of 9/11. (8)
3,100 – Government agencies and private companies involved in counter-terrorism (8)
124.8 billion – Number of phone calls subject to data gathering by the National Security Agency in a single month in 2013, including information on some calls that originated in the U.S. (9)
Security at Home
Even in our homes, security isn't guaranteed, as the specter of police involvement seems to be increasing for a great many Americans.
80,000 – Number of military-style police raids of civilian homes in 2013
79% – Percentage of SWAT police raids carried out for the sole purpose of executing a search warrant. (SWAT teams were originally intended to be for hostage, barricade, active shooter or emergency situations — not search warrants).
400+ – Fatal shootings by police officers per year
The Future of Security?
While it's likely that spending on national defense and police forces will continue, perhaps the future of security can be found in drones.
$2.5 billion – Global market for nonmilitary drones
30,000 – Drones expected to be flying in U.S. skies by 2020
---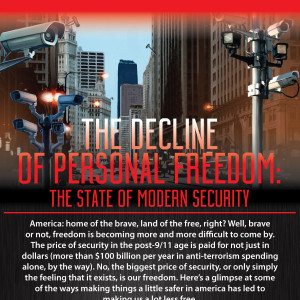 ---