Share this infographic on your site!
Tracking Down ISIS
The group now calling itself al-Dawlah al-Islāmīyah or the Islamic State (IS) has existed under many names, most notably the Islamic State of Iraq and the Levant (ISIL) or the Islamic State of Iraq and Syria (ISIS).
Quick Facts:
Government: Self-Declared Caliphate
Capital: Ar-Raqqah, Syria
Leaders:
Abu Bakr al-Baghdadi – Caliph
Abu Omar al-Shishani – Field Commander
Abu Mohammad al-Adnani – Spokesman
Timeline:
2004 – Abu Musab al-Zarqawi establishes al Qaida in Iraq (AQI).
October 2006 – AQI creates Islamic State in Iraq (ISI)
April 8, 2013 – ISI absorbs militant group in Syria, the al-Nusra Front. The group is now known as Islamic State in Iraq and the Levant (ISIL or ISIS).
June 10, 2014 – ISIS takes control of Mosul.
June 11, 2014 – ISIS takes control of Tikrit.
June 29, 2014 – ISIS announces the creation of a caliphate (the Islamic state) that erases all state borders,
July 2014 – In Syria, all the cities between Deir Ezzor city and the Iraq border fall to ISIS.
July 3, 2014 – ISIS takes control of a major Syrian oil field, al-Omar.
August 8, 2014 –  President Barack Obama authorizes "targeted airstrikes" to stop ISIS.
August 19, 2014: U.S. journalist James Foley is beheaded by ISIS on video.
September 2, 2014 – ISIS video shows beheads Steven Sotloff.
September 13, 2014 – British aid worker David Haines beheaded.
September 23, 2014 – The United States increases airstrikes against ISIS.
Fast Fact:
Today, ISIS holds a fair amount of territory in both Iraq and Syria — about the size of Belgium.
Statistics
ISIS is the Richest Terror Organization in the World
$2 million: Value of the Islamic State's cash and assets
$3 million: Estimated daily revenue of the Islamic State, from its oil and gas resources alone.
Their numbers are growing
20,000 – 100,000: The number of militants now fighting with the Islamic State. The Central Intelligence Agency (CIA) estimates ISIS' numbers between 20,000 and 31,500 while the Syrian Observatory for Human Rights (SOHR) places their numbers at around 100,000.
2,000: The number of westerners currently working with ISIS
35,000: The number of square miles thought to be under Islamic State control.
The Toll
1,922: Number of people killed in Iraq in June.
1083: Number of assassinations carried out by ISIS in 2013. (According to an ISIS report)
4465: Number of IEDs detonated by ISIS in 2013. (According to an ISIS report)
4500 and 9540: Number of operations run by ISIS in 2012 and 2013 respectively. (According to an ISIS report)
700: Number of children killed or maimed in ISIS attacks since January 2014.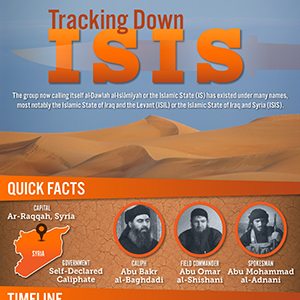 Sources:
http://www.huffingtonpost.com/2014/08/11/isis-iraq-numbers_n_5659239.html
https://www.breitbart.com/
http://www.cnn.com/2014/08/08/world/isis-fast-facts/
http://www.huffingtonpost.co.uk/2014/06/18/iraq-crisis-7-facts-isis-annual-report_n_5506255.html
http://en.wikipedia.org/wiki/Islamic_State_of_Iraq_and_the_Levant
http://rt.com/news/183048-isis-grow-expand-jihadist/