The most beautiful modern security buildings house government security agencies as well as private companies. When seeking out a security job, the location where a person works can sometimes be a hot topic among employees. Human beings have a natural proclivity toward speculating about secrecy, and some of the most famous landmarks of human culture originated as security buildings.
The nature of security is to serve and protect, and the more challenging the cases the more interesting the work can sometimes be in one's life. A good job with a security firm is often the dream of those seeking an education in the field, and competition for places among talented security professionals can be fierce. This can be especially true when ranking places to work or firms to train with by their effectiveness.
Featured Schools
What are the most interesting, beautiful, and modern security buildings today, persons seeking out security careers might ask? Here is just a list of 10 of the best and most fascinating; perhaps a security degree might one day have you working in one.
---
1. MI-6 Headquarters, London
As one of the world's leading headquarters for security teams and made famous in the James Bond franchise of books and films, MI-6 headquarters is also beautifully designed, and as a structure resembles something like a modern-day fortress or castle. True to England's past, MI6 has the strong facade of older British architectural design matched with newness and completeness that makes it one of the most beautiful architectural models in the United Kingdom.
When looking at its pristine lines and strong shapes, one feels that James Bond would be proud to work in such an elegant but mysterious building. Built along the main road in London, it is easy for tourists or would-be agents to catch a glimpse of the buildings.
---
2. NSA Headquarters
Charged with keeping America safe by being at the forefront of intelligence operations, the NSA's headquarters has a look that matches its secretive nature. Designed in rectangular blocks with blacked-out windows, the buildings are as mysterious as the men behind them, surely a primary thought on the mind of the buildings' designers in creating its look. The NSA's buildings are very large and by now quite famous in the media, but their architectural beauty comes from their almost black jewel-like appearance that matches the organization's sterling reputation for national security.
---
3. The Par-Kut Presidential Security Booth
One of the smaller buildings on the list, and used at the Henry Ford museum among other locations, this security booth is both stylish and rigorous in its design and meant to give a graceful appearance to wherever it is installed. Providing quick access to visitor information, security personnel can easily identify and speak with clients and visitors in this easy-to-use structure. Simple yet effective, the Presidential Security Booth would be an honor for any president to pass through.
---
4. Academi Headquarters, Virginia
A major provider of security for military forces, Academi, formerly Blackwater, has a stunningly beautiful headquarters that resembles a mix of a fortress and of a hunting lodge. With bases around the world, Academi tends to call Virginia home, but some of its most famous tasks involve backing up troops in Afghanistan and Iraq and in quelling conflict in other warzones. Academi staff is known for their professionalism and efficiency, and their headquarters match the toughness and rigor of their reputation.
---
5. Anti Piracy Maritime Security Solutions
One of the greatest aspects of working in maritime security is that your headquarters will often be on a top-of-the-line ship on the open seas. Much like sailors of older times, maritime security experts are tasked with keeping vessels at sea safe and especially in recent years from pirates roaming the coasts of countries like Somalia for shipping and freighter goods.
One of the hardest jobs in the world, anti-piracy security demands an iron will and a great deal of courage. Due to the often destitution from which they are raised, pirates will usually stop at nothing to secure goods from passing ships, making them especially difficult to secure individuals from. It is an important job, however, and good security firms are there to do it.
---
6. HBGary
Set in a beautiful location in suburban Sacramento, CA, HBGary provides not only top-notch security service but has a strong reputation in the security industry. Also working closely with the technological side of security, with proximity to Silicon Valley, HBGary is one of the biggest names in computer security technology.
Its headquarters are more reminiscent of big California firms like Google or Apple, Inc. than other security firms, but then again its technological breakthroughs are legendary within the industry, with HBGary often doing much good in battling cybercrime and catching hard-to-detect opponents.
---
7. Aegis
Built on beautiful wooded grounds in Virginia, the Aegis security company assists in logistics and assistance in overseas projects concerning Iraq and Afghanistan among many other countries. As a security apparatus, it is second to none in providing backup support when it is needed most and operates in some of the most dangerous regions in the world. Although Aegis makes its home in Virginia, it is primarily a British-run company with many satellite locations around the globe, making it one of the most international security firms in the world.
---
8. The Pentago
In many ways tasked with facing some of the biggest security issues in the country, The Pentagon is also something of an architectural marvel, with its trademark shape and strong outward appearance. Meant to convey the strength of American international relations, the Pentagon has stood for years as a symbol of American might and jurisprudence in the world, and at other times has been a controversial image, especially when the Pentagon Papers were published in the New York Times in 1971.
This duality of the Pentagon's image has existed ever since, with September 11th once again bringing the image of the Pentagon into the national consciousness. Whatever the situation, however, most Americans see the Pentagon as a symbol of national unity and perseverance during times of conflict.
---
9. The Brompton Oratory
One of the more interesting structures in London, the Brompton Oratory is not only the second-largest Catholic cathedral in the city and one of the most beautiful sites in England (it's even just down the street from the beautiful facade of Harrod's Department Store), it was oddly enough also the site of much cold-war espionage.
Soviet agents used to leave packages for one another in its beautiful main hall and presented British agents with a serious case of cat-and-mouse in finding and assessing where Russian messages were coming through into England. This must make the Brompton Oratory one of the most beautiful spaces for security conflict to have ever existed.
---
10. Whitehall Road, England
This building is named for the Palace of Whitehall which stood alongside the famous road that dated back to the 16th Century. Whitehall became the catch-all name for the beautifully constructed buildings of the British government that were built there. An example is the Prime Minister's office on Downing Street. It includes the Ministry of Defense, the organization that was so central to British operations during wartime, and Winston Churchill's exuberant planning sessions for defeating the German military.
Churchill had indeed called for the organization of a Ministry of Defense as far back as 1934, presciently and long anticipating Hitler's imperial agenda as he did. The palace on Whitehall's grounds was so beautiful that it in fact hosted the first-ever performance of William Shakespeare's great play The Tempest. That such conflict and beauty ever existed in one place is testimony to the dichotomy with which human culture is often divided.
---
Working in One of the Most Beautiful Modern Security Buildings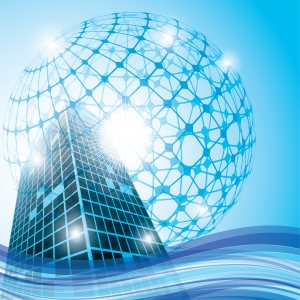 Although the work can be exciting, security workers spend most of their days in a variety of peaceful settings protecting people, whether in corporate headquarters or hospitals. They serve a vital role in making employees, clients, and patients feel at ease. Hopefully, a good day will not see much conflict and will not resemble a James Bond film, as exciting as the prospect might sound.
For many cultures, security is an old hat. Queen Elizabeth, I had an army of spies to protect the British Empire as far back as the 16th Century. Furthermore, many Elizabethan poets and writers such as Christopher Marlowe signed up for service in her majesty's spy ring in order to protect the crown. Even up to the present day, security firms like MI5 and MI6 in England have "tapped" new recruits for jobs to protect the company via elite universities such as Oxford and Cambridge. Author Ian Fleming, who served in the security services of the UK, used his time in the British SIS to create his most famous creation, James Bond.
---
Related: