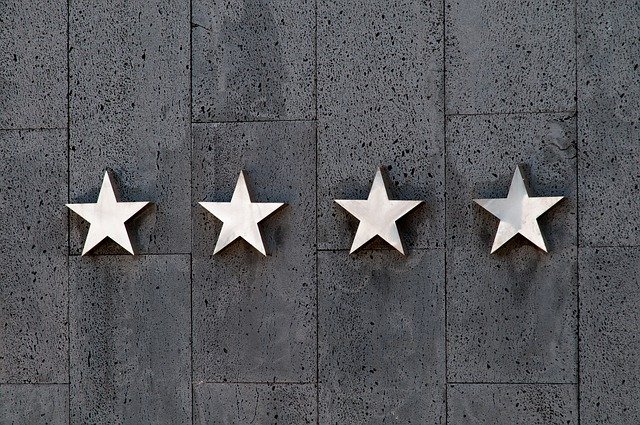 These important security jobs include roles in the public and private sectors and salaries into the six or seven-figure range. They protect presidents and pre-schoolers, prevent cyber and terrorist attacks, and take preventive measures to protect the homeland. They are all specialists in one way or another and trained in several security positions, protecting people, companies, and countries. Amazingly, the range of these important jobs in the field is quite extraordinary.
Salaries for all the jobs are listed below. They are not listed in order of salary since, within each job category, payout varies. In addition, pay is different by state, company, and individual, but in general, those given are median salaries, as documented on salary.com and the U.S. Bureau of Labor Statistics.
---
1. Casino Security Guard
These individuals patrol casino properties and ensure the safety of both guests and employees. It is likely they also look for card cheaters. Like all security personnel, they respond to emergencies as needed, and notify local police officers when backup is necessary.
Generally, casinos look for individuals with a law enforcement background, cops, or individuals with industrial security backgrounds (guards). The highest salaries are usually found at Las Vegas casinos.
Salary: $26,000
2. Retail Store Detective
These security agents are responsible for the apprehension and prosecution of shoplifters and the prevention of theft. Not a uniformed security guard or watchman. The field is larger than you might think. Almost every major department store, not just chains, hire undercover agents to walk through stores and watch for shoplifters.
Sometimes those agents sit behind the scenes and watch cameras located throughout the store, but whether they are watching screens or walking the floor, they save companies millions of dollars in theft.
Salary: $31,473
3. Marine Cargo Inspector
Water cops. These inspectors examine seagoing vessels to certify compliance with national and international health and safety regulations in cargo handling and storage.
Due to the number of government regulations they need to know, these jobs could require an associate's degree with 2-4 years of experience in the field. Familiar with standard concepts, practices, and procedures within a particular field. In a world where everything from drugs to illegal weapons can be smuggled in, these inspectors have a lot to handle.
Salary: $32,273
4. Bailiff
Bailiffs are legal officers whose main role is to maintain law and order during courtroom proceedings. Judges depend on bailiffs to ensure that the public, jury, legal teams and defendants proceed through trials and other court proceedings peacefully and with the required decorum. Not anyone can be a court bailiff. You'll need at least a high school diploma or GED. Some additional training, either at a 2- or 4-year college, vocational school or police academy, may be an asset in pursuing a position as a court bailiff.
Employment at the federal level may require a bachelor's degree as well as related work experience. Since bailiffs maintain safety in the courtroom, they may benefit from CPR and first aid training. Some court systems require court bailiffs to attend firearm training classes and to be comfortable using chemical sprays, such as pepper spray. They must also meet physical fitness standards and have clean criminal records.
Salary: $40,920
5. Correctional Officer (aka Prison Guard)
Among all jobs listed here, this might be one of the mentally toughest. Prison guards are responsible for enforcing rules and regulations in a prison, jail, or another holding facility. They have to oversee prisoner conduct and safety. Supervise prisoners during meals, recreation, work, and other daily activities.
Guards at smaller, county prisons are essentially hourly workers. Federal workers are unionized and make more money. But the prisoners are more hardcore at federal penitentiaries. Either way, the job requires strength of will and body and good judgment.
Salary: $41,053
6. Bounty Hunter (Bail Enforcement)
You might need to move to the US if you want to join the bail enforcement industry – yes there really is one. But there is still something glamorous about the idea of being a bounty hunter.
Wikipedia defines a bounty hunter as an individual who captures fugitives ("hunting") for a monetary reward ("bounty"), for apprehending by law, if such laws exist. Other names include Bail Agent, Bail Enforcement Agent, Fugitive Recovery Agent, or Bail Fugitive Recovery Specialist.
Pay for this is between 10% and 45% of the bail deposit amount, and experienced bounty hunters who take high-risk assignments can make more than $100,000 a year.
Salary: $45,000
7. Locksmith
Responsible for the maintenance of locks, keys and security systems. Duplicates keys, replaces and re-keys locks as necessary, and ensures that all security devices are in adequate working condition. Knowledge of the common hazards and necessary safety precautions, and ability to take safety precautions, including the use of power tools and equipment consistent with the Locksmith trade.
The beginner might be required to complete an apprenticeship and/or formal training in area of specialty.
Salary: $45,873
8. Highway Patrol Officer (Police)
Also known as state policemen (and women), these officers patrols assigned geographic areas and make note of unusual or suspicious events. Jurisdictions range far beyond city or town police. They resolve disputes and enforce traffic laws. They investigate car accidents and fires. They are called to the scene in many dangerous, potentially criminal situations.
State troopers must also issue traffic citations and tickets, and use their judgment when issuing an alcohol Breathalyzer test for potential drunk drivers. Because state troopers are often dealing with individuals who are traveling at high speeds, it's important for them to anticipate any type of situation.
Salary: $47,211
9. College Campus Security Director
Oversees the campus security force. Handles traffic and parking situations throughout the campus. Conducts training sessions for patrol officers as needed.
The Director of Campus Safety is responsible for: 1) the development, implementation, and management of campus safety and security programs and services including but not limited to security, environmental health and safety, fire safety, emergency management, parking management, and key control, 2) compliance with all applicable state and federal laws, rules, and regulations related to campus safety, and 3) ensuring that day-to-day security, public safety functions, and new initiatives are aligned with the College's Strategic Plan.
Salary: $76,916
10. Network Security Systems Manager
Manages all network security systems for LAN/WAN, telecommunications, and voice systems. Typically, accomplishes system security human resource objectives by recruiting, selecting, orienting, training, assigning, scheduling, coaching, counseling, and disciplining employees; communicating job expectations; planning, monitoring, appraising, and reviewing job contributions.
Achieves system security operational objectives by contributing information and recommendations to strategic plans and reviews; preparing and completing action plans; and implementing production, productivity, quality, and customer-service standards.
Salary: $86,657
11. Web Security Manager
Responsible for designing, implementing, and maintaining security measures to support the information and data security needs of the company's Web presence. In other words, Web security managers are responsible for protecting their organization's computers, networks and data against threats, such as security breaches, computer viruses or attacks by cyber-criminals.
Also, researches and evaluates new or improved security measures to implement for Web systems' security.
Salary: $97,240
12. Disaster Recovery Director
Oversees all activities for ensuring the security and integrity of company data, databases, information systems, and technology. Develops disaster recovery and resumption plans for the organization. Directs the implementation of data models, database designs, data access and table maintenance codes. Establishes policies for resolving database performance, capacity and replication issues.
They also investigate computer-related crimes within an organization. Once they discover the problem, they then mitigate the damages, and thoroughly investigate the situation. They take detailed notes throughout the entire process. A wide range of computer forensic tools are used to perform the functions of the job. Prior experience in computer investigations or general computer forensics is often necessary to prepare for a career as an Incident Responder. The ability to obtain a security clearance is also generally a requirement.
Salary: $126,842
13. Director of Privacy (or Chief Privacy Officer)
Designs and develops the goals, policies, and procedures of the organization's privacy programs in accordance with security laws. Plans and directs privacy training programs and activities. Responsible for research and response to consumer, government, and media inquiries.
The privacy officer oversees all ongoing activities related to the development, implementation, maintenance of, and adherence to the organization's policies and procedures covering the privacy of, and access to, patient health information in compliance with federal and state laws and the healthcare organization's information privacy practices.
Salary: $135,147
14. Intrusion Detection Specialist
This security specialist monitors networks, computers, and applications in large organizations, looking for events and traffic indicators that signal intrusion. Once intrusion has been confirmed: determines the damage caused by detected intrusions, identifies how an intrusion occurred, and recommends safeguards against similar intrusions. Also does penetration testing to identify vulnerabilities and recommend safeguards as preemptive measures.
An intrusion detection system is generally considered to be any system designed to detect attempts to compromise the integrity, confidentiality, or availability of the protected network and associated computer systems.
A Network Intrusion Detection System (NIDS) aims to detect attempted compromises by monitoring network traffic for indications that an attempted compromise is in progress, or an internal system is behaving in a manner that indicates it may already be compromised. A host-based IDS (HIDS) monitors a single system for signs of compromise.
Salary: $66,000
15. Industrial Security Specialist
Industrial security specialists establish, for each contractor and subcontractor, criteria covering such matters as foreign ownership or influence; classification and clearance levels required for contract performance; product classification; need for restricted nuclear data; and access to communications security, intelligence, or international organization information.
Industrial security specialists conduct surveys of industrial or other private facilities to determine the organization's eligibility to work with and store classified and sensitive information. These surveys involve a thorough examination of business documents and personal interviews to determine the actual ownership or source of control of the organization and organizational history. This job description is courtesy of the U.S. Office of Personnel Management.
Salary: $66,000
16. Contract Personnel Security Officer
Functions as Contract Personnel Security Officer in a military facility/center. These officers establish and maintain personnel/visitor control files showing individual clearances for classified visits and training, that reflect periodic reinvestigation.
They also manage and administer Joint Personnel Adjudication System (JPAS), and Defense Threat Reduction Agency accounts in JPAS by ensuring that employees have the correct owning agency for their clearance and that clearance is picked up or transferred during employee turnover. They will also assist with Security In/Out Processing Center administrative duties that include retrieving DTRA-issued badges, decals and canceling visits, reviewing and updating DTRA visitor control procedures, and ensuring that visitors are properly identified, cleared, and badged before they are granted access to local area networks.
Salary: $58,000
17. Managed Security Service Provider
MSSPs offer small to medium-sized companies or organizations access to resources that they could not otherwise afford to maintain internally. While many companies feel competent to handle a multitude of security issues, they lack the overall skill necessary to implement an enterprise-wide security strategy. Intrusion detection is but one of the many components that is necessary for developing this security strategy.
When combined with the increasing salary demands of security professionals and the overall lack of skilled specialists, outsourcing seems to be an attractive alternative.
Salary: $57,000
18. Computer Security Incident Responder
A member of a team that prepares for and mounts a rapid response to security threats and attacks such as viruses and denial-of-service attacks. Incident Responders investigate computer-related crimes within an organization. They discover the problem, mitigate the damages, and thoroughly investigate the situation. They take detailed notes throughout the entire process.
A wide range of computer forensic tools are used to perform the functions of the job. Prior experience in computer investigations or general computer forensics is often necessary to prepare for a career as an Incident Responder. The ability to obtain a security clearance is also a requirement. [Description by Infosec Institute.]
Salary: $41,000
19. Source Code Auditor
Reviews software source code to identify potential security issues and vulnerabilities that could be exploited by hackers to gain unauthorized access to data and system resources. The Legal & Technology audit specialist, at Adobe, for example, uses a variety of methods and tools to identify evidence of the third-party open-source and commercial code as well as other intellectual property, then reports the findings to the engineering and legal teams for resolution.
In addition, the Legal & Technology Audit Specialist is sometimes expected to continuously identify and proactively implement improvements to existing audit tools and processes.
Salary: $52,000
20. Virus Technician
Analyzes newly discovered computer viruses, and designs and develops software to defend against them. The process of virus removal is a highly technical and valued skill. The skill encompasses the removal of malicious programs from an operating system.
For PCs, Windows virus removal is a constantly changing field. There are such a large number of new viruses coming out all the time that it takes skilled, knowledgeable technicians to get the virus removed correctly and permanently.
Salary: $46,000
21. Penetration Tester or Ethical Hacker or Assurance Validator
This security technician not only scans for and identifies vulnerabilities, but also exploits them to provide hard evidence that they are vulnerabilities. When penetration-testing large infrastructures such as power grids, utility systems, and nuclear facilities, large teams of penetration testers, called Red Teams, are employed. This expert finds security vulnerabilities in target systems, networks, and applications in order to help enterprises improve their security.
By identifying which flaws can be exploited to cause business risk, the pen tester provides c insights into the most pressing issues and suggests how to prioritize security resources. Understanding how systems can be penetrated and misused is something less than one percent of people in the entire security industry know, let alone the average citizen.
Salary: $74,000
22. Vulnerability Assessor
The assessor is an expert in scanning for, identifying, and assessing vulnerabilities in IT systems including computers, networks, software systems, information systems, and applications software. But there is more.
The vulnerability assessor also works in areas of product anti-counterfeiting, tamper and intrusion detection, cargo security, nuclear safeguards, and the human factors associated with security. The vulnerability assessor works closely with business lines & infrastructure teams, this role directly contributes to the effort to identify, track, and remediate the open vulnerabilities (technical Vulnerabilities or build compliance deviations) on systems that store, process, or display Citizens' data.
Salary: $63,000
23. Soldier of Fortune (Mercenary)
Among the more elite and unusual security jobs, a soldier of fortune takes on a great deal of risk and responsibility in choosing to follow such a career path. With the right experience, it is possible for a soldier of fortune to earn a considerable amount of money with the top players in the field bringing home on average $125,000 per year.
Who you work for, and where, has a very heavy influence on the salary that you may be able to command.
Salary: Average $125,000 a year. But could be considerably higher.
24. Homeland Security Workers: Information Analysis
See below.
25. Homeland Security: Infrastructure Protection
See below.
26. Homeland Security: Border and Transportation Security
See below.
27. Homeland Security: Emergency Preparedness and Response (including chemical, biological, radiological, and nuclear countermeasures)
There are four categories in which most Homeland Security workers are classified. These categories are information analysis and infrastructure protection, border and transportation security, emergency preparedness and response, as well as chemical, biological, radiological, and nuclear countermeasures. Jobs range from internships and entry-level positions to consultants and special agents. Homeland Security does hire those with experience in the private sector as there are many components to the agency.
Law enforcement careers offer positions in the protection of the President, Vice President, their families, heads of state, and other designated individuals; securing the nation's borders; interagency law enforcement training; and enforcing economic, transportation, and infrastructure security.
Prevention and response Homeland Security careers protect the public, environment, and U.S. economic and security interests in any maritime region, as well as provide preparedness, protection, response, recovery, and mitigation to reduce loss of life and property and protect the nation from all hazards are what these careers are all about.
Salary Range: The average salary for a homeland security official is estimated at $79,000. Salary is also dependent on job type. For example, special agents make about $170,000 while federal officers make slightly more than $40,000 a year.
28. Information Security Crime Investigator
This expert analyzes how intruders breached the infrastructure in order to identify additional systems/networks that have been compromised. Investigating traces left by complex attacks requires a forensic expert who is not only proficient in the latest forensic, response, and reverse engineering skills, but is astute in the latest exploit methodologies.
Why it's cool: "In the private world, the security guy just cleans up the mess to try and keep the ship afloat, but when criminals strike, the crime investigator gets to see that the bad guys go to jail. Want to see the face of your enemy… behind bars? It's a thrill like no other – being pitted against the mind of the criminal and having to reconstruct his lawless path."
Salary: $69,000
29. Quantum Cryptographers
Cryptography is the discipline of using codes and ciphers to encrypt a message and make it unreadable unless the recipient knows the secret to decrypt it. Quantum cryptography is often touted as being perfectly secure. Here's a further explanation: It exploits the fundamental laws of quantum mechanics to provide a secure way to exchange private information. Such an exchange requires a common random bit sequence, called a key, to be shared secretly between the sender and the receiver.
The basic idea behind quantum key distribution (QKD) has widely been understood as the property that any attempt to distinguish encoded quantum states causes a disturbance in the signal. So, in theory, it is impossible for an eavesdropper to intercept a quantum encryption key without disrupting it in a noticeable way, triggering alarm bells.
Salary: $128,000
30. Insurance Investigator
Insurance fraud costs more than $96.8 billion a year. To counter this, many companies assign field and special investigative unit (SIU) insurance investigators whose job is to determine whether a claim is fraudulent or not when criminal activity is suspected. An insurance investigator's responsibilities frequently involve inspecting houses, cars, buildings, businesses, and personal property.
The specific nature of an insurance investigator's work varies, based on professional experience and education. Some handle simple fraud cases involving improperly filed paperwork or false identities. Others, with more experience, handle instances of fraud by means of arson or theft. Insurance investigators spend a substantial amount of time gathering and analyzing forensic evidence from accidents or crime scenes.
Salary: $50,000
31. Oil Rig Security
Oil rigs have some of the most complicated pieces of machinery on the planet. Not only is it expensive, but it is also extremely volatile, which leaves it open to attacks by eco-terrorists. Offshore oil rig security jobs are vital for keeping these huge structures safe at sea, and oil rig security jobs are important for keeping us safe on land.
Whether at sea or on land in oil fields, security officers act as a visible deterrent to crime and client rule infractions; detect suspicious activities, and watch for criminal acts or client rule infractions at or near assigned posts that may be a threat to the property, clients, guests or employees at the site.
Salary: $51,000
32. Coast Guard Search and Rescue (Operations Specialists)
Coast Guards hold one of the noblest and most virtuous of jobs around as it involves saving people's lives. However, it can also be a very dangerous place to work especially in instances where the saviors themselves need rescuing. Coast Guards are exposed to many harsh environments and dangerous situations such as natural disasters, sea rescues, and night rescues.
Operations specialists (OS) perform a central role in the execution of nearly all Coast Guard operations as the eyes, ears, and voice of the Coast Guard for the maritime community. OSs perform functions ranging from search and rescue or law enforcement case execution, to combat information center operations or intelligence gathering. OSs operate the most advanced tactical computer systems the Coast Guard has, including satellite communications, global positions navigation, electronic charting, shipboard navigation systems, and real-time target acquisition tracking and identification systems.
Salary: Enlisted men and women begin at $1,416 a month; commissioned officers begin at $2,905 a month.
33. Chief Information Security Officer
Today's CISOs are no longer defined the way they used to be. While still technologists, they must have business and communication skills, and process-oriented thinking. They need to connect legal, regulatory, and local organizational requirements with risk-taking, financial constraints, and technological adoption.
You'll have the creative direction to influence and directly contribute to the overall security of an organization. The position usually reports at a very high level and gets to see and influence the big picture. You work with physical security, IT, businesses, and even the FBI and other law enforcement agencies.
Salary: $177,266
34. Asset, Infrastructure, and Facility Protection Guards
As a member of an Asset unit, you coordinate critical infrastructure protection with public and private sector partners. Conduct assessments of critical infrastructure and key resources and help develop protection strategies.
This job supports federal, state and local comprehensive risk analysis to reduce the Nation's vulnerability to terrorism and deny the use of critical infrastructure as a weapon by implementing plans and programs that identify, catalog, prioritize, and protect people and assets in cooperation with all levels of government and private sector. Examples of sites visited since 2010 include bridges, hospitals, government facilities, water treatment facilities, rail yards, dams, reservoirs, financial institutions, liquefied natural gas facilities, nuclear power plants, pipeline facilities, and energy generating facilities.
Salary: $61,000
35. The U.S. Secret Service: Protecting Presidents (and more)
After the assassination of President William McKinley in 1901, Congress directed the Secret Service to protect the President of the United States. Although protecting the president is a key mission of the Secret Service, today, they are also authorized by law (18 United States Code § 3056) to protect:
• The vice president, (or other individuals next in order of succession to the Office of the President), the president-elect, and vice president-elect
• The immediate families of the president and the above individuals
• Former presidents and their spouses for their lifetimes, except when the spouse remarries.
• Children of former presidents until age 16
• Visiting heads of foreign states or governments and their spouses traveling with them, other distinguished foreign visitors to the United States, and official representatives of the United States performing special missions abroad
• Major presidential and vice-presidential candidates, and their spouses within 120 days of a general presidential election.
• Other individuals as designated per Executive Order of the President
• National Special Security Events, when designated as such by the Secretary of the Department of Homeland Security
Salary: Special agents average $110,000
36. Celebrity Body Guards
Also known as bodyguards, executive protection professionals, close protection officers, and security guards. Celebrity Bodyguards keep clients safe and happy. They must assess and deter possible threats from stalkers, paparazzi, and even ex-boyfriends, while also ensuring that the celebrity is relaxed and receives a high standard of service.
Ever notice those large bar bouncer types who accompany Justin Bieber wherever he goes: those are his security guards. All megastars have them for their safety: Michael Jackson, the young teen stars in One Direction. The pay can be quite good.
Salary: $25,000 to $500,000
37. Armored Car Guard
Armored Car Guards are licensed and employed by armored car carriers to protect and safeguard valuable cargo from one point to another, all through the use of specialized bullet-resistant armored vehicles. Depending on the jurisdiction, guards are armed with weapons. Most guards are armed with either a shotgun or handgun, but some carry submachine guns or assault rifles. Due to the dangerous nature of their profession, all guards are required to wear bullet-proof vests.
Armored car guards may also be assigned to protect individuals transporting money or valuables. Specific requirements vary, but many states require armored car guards to be registered or licensed.
Salary: $20,876 – $41,525
38. Military Police
Military Police are responsible for policing armed forces personnel by enforcing military laws and regulations. Each branch of the U.S. military maintains its own military police force, except for the U.S. Coast Guard. Many of their job duties are quite similar to civilian law enforcement, but for the most part, the military police are dedicated to crimes and legal situations that center on military personnel and their families. Because they are military police, they also take on a number of job duties in combat and non-combat operations.
First and foremost, the military police are tasked with enforcing the law in both peacetimes and in combat theaters. Trained in the rules and regulations of the Uniform Code of Military Justice, or UCMJ, they are responsible for keeping order on military installations and working with civilian authorities in cases that involve military personnel.
Salary: Officers make on average $48,857
39. Corporate Security Officers
Security officers are responsible for securing an organization's physical and digital security. Primary responsibilities include devising policies and procedures regarding areas such as business continuity planning, loss prevention, fraud prevention, and privacy.
Other responsibilities include overseeing and coordinating security efforts across the company, including information technology, human resources, communications, legal, facilities management, and other groups. And identifying security initiatives and standards.
Salary: for Corporate Security Managers ranges between $71,000 and $98,000 per year
40. Swiss Guard
Frequently called "The World's Smallest Army" the Swiss Guard is a corps of Swiss soldiers responsible for the safety of the pope. Independent of the Swiss armed forces, the Guardia Svizzera (as they are known in Italian) swear fealty to the pope in a ceremony at Belvedere Court.
Despite carrying swords and pikes while wearing the ceremonial uniform, the Swiss Guard are well versed in the use of modern weaponry and have been extensively trained in counterterrorism tactics.
Salary: 15,600 euros ($20,200)
41. Federal Air Marshal
Federal Air Marshals fall under the supervision of the Transportation Security Administration (TSA) and are tasked to identify and apprehend dangerous individuals and prevent criminal activity and protect passengers and crews on domestic and international flights and at airports. Due to the enclosed nature of airplanes and the close proximity of bystanders, Federal Air Marshals are held to incredibly high marksmanship standards.
Prior to 9/11, the Air Marshal Service was made up of only 33 agents with a $4.4 million annual budget. The exact number of Air Marshals is secret but is believed to be more than 3,000. The agency in late 2013 announced cutbacks in personnel.
Salary: $58,495 to $90,717
42. Border Patrol Agents
Border Patrol agents serve on the ground, in the air, and on the water while monitoring activities along the borders of the United States. Tasked with preventing the unlawful entry of terrorists, criminals, smugglers, and illegal aliens, they engage in a wide array of law enforcement, investigative, surveillance, and intelligence roles. As members of the Department of Homeland Security and the country's largest law enforcement agency, U.S. Customs and Border Protection (US CBP), Border Patrol agents serve a critical role in defending the United States.
Border patrol agents can find themselves in compromising situations where they have to chase illegal aliens and even get shot at. What makes their jobs even more dangerous is the fact that they do not only encounter illegal aliens who wish for a better life in the U.S.; they also face drug smugglers and gang members.
43. School Hallway Guards
Until the tragedy at Columbine and then Sandy Hook, schools didn't feel the need to have police security guards wandering their hallways on the watch for those disturbed individuals who would do harm to kids. That is no longer true. School districts around the country are budgeting more and more for security as they should.
These professional school guards run the gamut of experience. Some are regular police officers with school guard duty, others are retirees working for minimum wage. Isn't it ironic that perhaps the lowest paid security job in our country guards our most precious possessions: our children.
Best Ex-Cop Jobs for Former Police Officers
Salary Range: volunteer (free) to regular police officer pay status
44. Biodefense Researchers
Although the use of biological weapons was outlawed by the 1925 Geneva Protocol, leading nations around the world have pursued the development and stockpiling of biological weapons throughout the last century. As biological knowledge, materials, and technologies have become more widely disseminated and accessible globally, concern has grown that governments – and ultimately terrorists or even technically sophisticated individuals – could exploit them for hostile purposes.
Events such as the 2001 anthrax attacks have amplified such concern, although the source of the attack in the U.S. and hence the lessons to be drawn from it remain unknown. In response to this concern, spending on biodefense has increased dramatically in recent years, especially in the U.S. In the summer of 2014, agencies geared up to watch for the deadly Ebola virus on our shores.
Salary: $79,000
45. The Queen's Guard at Buckingham Palace
The Queen's Guards are all part of the Household Division, who have guarded the British Royals and the Royal Palaces since 1660. The British Army had regiments of both Horse Guards and Foot Guards predating the English Restoration (1660), and, since the reign of King Charles II, these have been responsible for guarding the Sovereign Palaces.
The Queen has a number of homes, both official (Buckingham Palace, St James's Palace, Windsor Castle, and Holyrood House in Scotland) and private (Sandringham and Balmoral), but it is only at the London and Windsor Palaces and Holyroodhouse that a guard is mounted.
Salary: In U.S. dollars, $50,000
46. Agents of the U.S. Environmental Protection Agency (EPA)
Agents of the EPA's Criminal Investigation Division (EPA CID) are highly trained law enforcement officers dedicated to enforcing federal laws that protect the environment. They investigate the most significant violators of the environmental laws that pose the greatest threat to the populous and the environment.
EPA agents are federal law enforcement officers who are authorized to carry weapons and execute search warrants. As a protector of the environment, an EPA agent might investigate a company illegally dumping hazardous waste into waterways or exceeding its air pollution limits. Investigations often lead to arrests and prosecutions, and it is not unusual for environmental criminals to be guilty of fraud and conspiracy.
Salary: $25,000 to $100,000
47. Police Dogs
They're not human. But they protect human lives. There are a few specializations of police dogs:
Search and Rescue (SAR) dogs – Trained to track and locate suspects or missing person detection dogs – Trained to sniff out bombs or illegal substances.
Arson dogs – Trained to detect the use of accelerants in cases of suspected arson.
Cadaver dogs – Trained to detect the odor of decomposing bodies and locate corpses.
The final cost of a fully trained police dog is between $20,000 – $23,000
48. Drone Operators or Unmanned Aerial Vehicle Operators
The widespread use of surveillance drones in Afghanistan, Iraq, and Pakistan has probably saved thousands of American soldiers' lives. They are also a growing part of the nation's defense strategy.
As the guardian of the country's borders, U.S. Customs and Border Protection has implemented the Predator-B Unmanned Aircraft Systems (UAS) to prevent the unauthorized entry of terrorists, criminals, and undocumented immigrants. Customs and Border Protection (CBP) currently maintains and operates a fleet of 8 Predator-B aircraft from its bases in Florida, Texas, Arizona, and North Dakota, but it is in the process of adding to this number to widen its operational effectiveness.
Salary: Ranges from $30,000-$70,000
49. Food Taster
Security for the paranoid. From Roman Emperor to Vladimir Putin, Food Tasters have existed for thousands of years, thriving on the frequently appropriate paranoia of countless leaders throughout history.
Romanian dictator Nicolai Ceaucescu brought a food taster with him on a visit to Buckingham Palace, Saddam Hussein had a number of food tasters on staff, and Adolf Hitler's food was tested at every meal.
Salary: $51,234
50. You, Me, and Us
In this increasingly dangerous world, law enforcement officials are depending more and more on their citizenry to keep a watchful eye on anything that or anyone who might look suspicious.
An unruly airplane passenger; an unmarked package left in an airport; a stranger hanging around an elementary school playground. With the advent of the lone gunman, the lone acting terrorist, and the child predator, we are all becoming security experts as a matter of self-preservation.
Salary range: The good news is, we're free.
---
Related: