TSA: More Than Meets the Eye is a graphic that takes a look at how the TSA came to be and the darker side of such strict airline security.
---

Share this graphic on your site!
---
The Transportation Security Administration
Americans have mixed feelings about the Transportation Security Administration. While the organization itself touts impressive crime-stopping numbers, many find them better at creating long lines and conducting humiliating body searches. Let's take a look at how it came to be and the darker side of such strict airline security.
Origins
TSA's mission: "Protect the nation's transportation systems to ensure freedom of movement for people and commerce."
A brief history of the TSA
Sept. 11, 2001
The 9/11 terrorist attacks on the World Trade Center lead both the public and the government to ask for tighter security measures at airports.
November 2001
President George W. Bush signs the Aviation and Transportation Security Act, leading to the creation of the TSA. All passenger bags are checked by TSA agents.
December 2002
Explosive detection systems are installed at airports to check bags for hidden bombs.
April 2003
TSA begins training flight deck officers to handle potential in-flight issues. Commercial pilots are also armed for the first time in flight history.
August 2006
TSA requires passengers to remove their shoes so they can be checked for explosives.
September 2006
TSA enhances its security to include random employee screenings, canine patrols, and more rigorous ID verification standards.
September 2006
The ban on liquids is amended, allowing liquids, gels and aerosols in 3.4 oz. containers or smaller to be carried on when placed in single, plastic, resealable bags.
March 2010
Advanced imaging technology is installed in airports, where passengers must stand in a partially enclosed screening structure, raise their arms and wait for a full-body scan.
December 2011
TSA Precheck is introduced, allowing pre-screened, frequent fliers to make it through security checkpoints more quickly.
January 2015
Pat-down procedures are implemented at more airports, taking place even after full-body scans. These procedures have become the source of much controversy among civil rights groups.
May 2017
Automated screening lanes are introduced, including radiofrequency ID tags attached to item bins that are linked to X-rays of the items.
Modern Operations
TSA operates in nearly 440 federalized airports with more than 44,000 transportation security officers and over 600 security inspectors
60% – Percentage of officers with five or more years experience in counterterrorism
20% – Percentage of agents who are veterans or still serving in the military
TSA screening numbers
Daily: 2 million passengers
Annual: 700 million passengers
20,000 – Daily domestic flights screens
2,000 – Daily international flight screens
800 – Number of advanced imaging technology machines used
TSA employs law enforcement
Air marshals that fly millions of miles each year
900 canine teams screening passengers and cargo for illegal substances and explosives
Thousands of volunteer flight deck security officers
Officers that provide self-defense training to flight crew members
TSA also secures the vast U.S. transportation network
More than 4 million miles of roadways
More than 140,000 miles of railroad track
More than 360 maritime ports and 12,000 miles of coastline
About 2.7 million miles of pipeline
The Dark Side
TSA claims that, in 2015, they confiscated 2,653 firearms. 82.8% were loaded.
Airports with the most firearm discoveries
Dallas/Fort Worth International Airport: 153
Hartsfield-Jackson Atlanta International Airport: 144
Houston George Bush Intercontinental Airport: 100
Denver International Airport: 90
Phoenix Sky Harbor International Airport: 73
Despite these seemingly impressive numbers, TSA agents are still failing "Red Team" tests at an alarming rate. The so-called Red Team is a group of Homeland Security agents who attempt to smuggle mock explosive or weapons through TSA checkpoints.
95% – Percentage of TSA Red Team test failures in 2015. Agents failed to find the hidden mock weapons or explosives 67 out of 70 times. And ever since it was founded, TSA has endured thousands of airline passenger complaints each year.
More than 39,000 – Number of complaints received between October 2009 and June 2012
$3 million – Amount paid to passengers by the TSA for the loss, damage, or theft of personal items
Theft has been an issue with employees in the past. In 2011, two employees from New York's JFK airport were arrested for stealing $40,000 from checked baggage.
Top five airports with high incidents of TSA theft
1. Miami International Airport
2. JFK International Airport
3. Los Angeles International Airport
4. Hartsfield-Jackson Atlanta International Airport
5. Las Vegas-McCarran International Airport
Many complaints are also tied to the aggressive "pat-downs" TSA officials give select passengers. Over 1,000 complaints were made to the ACLU from passengers who felt they were subjected to invasive, unjustified searches. In some cases, people reported feeling assaulted and traumatized by their experiences.
---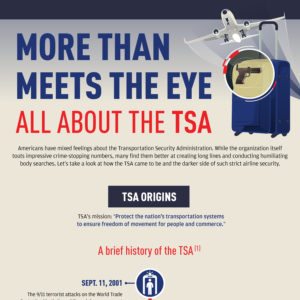 ---
Related: