Vigilantes Fighting ISIS: Voluntary Boots on the Ground

Share this infographic on your site!
(Voluntary) Boots on the Ground: A Look at the Vigilantes Fighting ISIS
As world powers continue to withhold deploying troops in Syria to fight ISIS, some people have taken matters into their own hands.
Vigilantes from at least 13 countries and states are now fighting ISIS in Syria.
Factions are loosely-affiliated.
Never Surrender: Dutch biker gang
Veterans Against ISIS: US military vets
Lions of Rojava: YPG US arm
FRAME: Vigilante smugglers
White Shroud: Secret guerrilla militia
AMO: US group trains civilians
SOLI: US group trains civilians
NPU: Trained by AMO/SOLI
Vigilantes fight alongside a multifarious front.
MLKP: Turkish communists
YPG: Kurdish militia group
PKK: Kurdish militants (labeled terrorists by US)
YPJ: All-female militia
And come from an array of backgrounds.
Surf Instructor
English Teacher
Military Vet
Philosophy Student
Actor
Highway Technician
House Painter
The number of vigilantes isn't clear.
400-500 Volunteers
150 Americans [*approximated by US government]
But they're dwarfed by foreign recruits.
20,000 ISIS Foreign Fighters / 31,000 Total ISIS Fighters = 65%
40X [X, as in, times] Anti-ISIS Vigilantes
The typical US path into battle is long and dangerous.
Contact vigilantes on social media.
Fly to Poland.
Connect to Turkey.
Drive through border into Iraq.
Assume disguise.
Move through safe houses.
Hike into mountains.
Cross Tigris River into Syria.
And it's not cheap.
Min. Estimated Airfare: $1,600
Min. Estimated Baggage: $400
What To Take: Items Received:
Body Armor Spare firearms
Helmet
Fatigues
20+ sock pairs
10+ underwear
Toiletries
Food rations
Some vigilantes receive $100 monthly stipends. Most get nothing.
The good news? If you want to join, there's no stopping you.
It's legal, and nearly 100% of vigilantes have made it to Syria.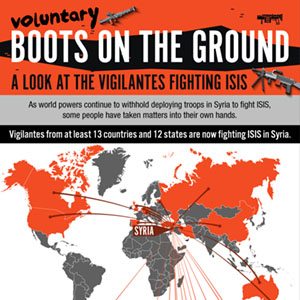 Citations: