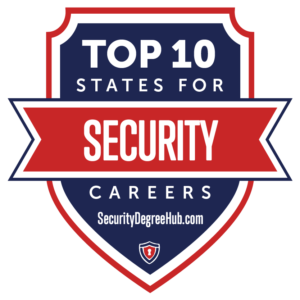 The top states for jobs in security have a great job outlook in the sector and offer some of the highest salaries. When it comes to identifying the best state governments to work for, you must start with identifying the advantages of working in a state government security career. State security careers offer key advantages over private security jobs.
A key benefit of working within the state government is job security. You will have the ability to maintain your career and job in different situations. It has a low risk of losing your job due to a recession because the state government will still need professionals to work in security roles within the government.
Featured Schools
The benefits associated with the job also play a part in identifying the right path for your career. Security professionals who work in the state government have the advantage of government benefits. That means you are eligible for health and dental insurance, paid vacation, and sick leave. Depending on your position and role, you may have options related to retirement. For example, you may be eligible for a pension plan after completing a certain number of years in your career. The exact benefits may vary slightly by state, so you will want to evaluate the details of your benefits when looking into your career opportunities.
Federal Agencies for Security Careers
Government security jobs also have the benefit of competitive salaries. While the specific income level may vary based on your role, education level, and your state, you can expect the income level to reflect the fair market wage for your local area.
The Security Degree Review ranking of the best states for security careers is based on data from the Bureau of Labor Statistics. We considered factors like the size of the security workforce, the demand in the job market, and the average salary for security professionals.
---
1. California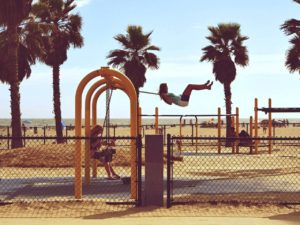 That seeking security employment in the state of California can expect to find employment in their career of choice. With over 386,370 currently employed in the profession, the average salary is among the highest in the nation, at $61,150. The fields include everything from bodyguards and security guards to personalized event staff, state-level law enforcement and federal agents from the leading security branches in the nation. In the state of California, the job market for security is one of the best states for jobs in security.
With vast amounts of celebrities, politicians, and other high-profile citizens visiting or residing in the state annually, there is a consistent need for security professionals of all types. Not only should these citizens and visitors receive protection, but national security is at risk in the state of California. Because of the large population and port cities, federal security is regulated daily to minimize potential threats and corporations.
Security Workers: 386,370
Average Salary: $61,150
---
2. New York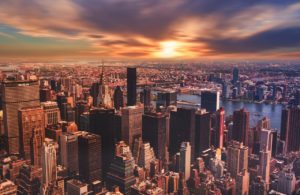 In the state of New York, the security industry is almost as vast as the state of California, but the majority of the industry is centralized in New York City as opposed to being spread across the state. With 313,240 security workers employed across the state, they average a decent salary of $54,870 which is competitive compared to other industries. The vast security industry within the state makes New York one of the best states for security careers.
The state of New York requires security across the state, but in the state capital and in New York City, there are headquarters for a number of international organizations, corporations, and monuments that bring millions of visitors to the state annually. With so much attraction and foot traffic, the security industry requires professionals from the private sector as well as public law enforcement and federal security agents to manage and protect the state.
Security Workers: 313,240
Average Salary: $54,870
---
3. Texas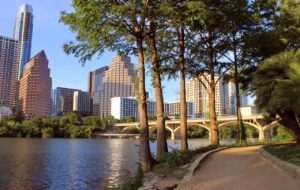 Texas is also another state that is no stranger to the security industry. Over the last decade, they have risen to the top of the security industry with some of the highest numbers in employment. Currently, there are over 290,000 security professionals employed within the state, and they average a salary of nearly $46,000. This makes Texas one of the best states for jobs in security.
In Texas, most of the security personnel can be found in the border towns, where the nation's southern border touches Mexico. Because there has been a rise in illegal immigrants and drug smuggling through this area, the federal government has decided to enhance the federal security presence on the border. While all levels of security can be found in the state of Texas, the highest demand is currently at the federal level where military personnel and federal agents work this border to minimize foreign threats.
Security Workers: 291,740
Average Salary: $45,840
---
4. Florida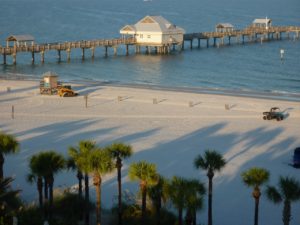 Florida is also at the top of the list for security personnel and professionals looking to maximize their security careers beyond more than an entry-level security guard. Throughout the state of Florida, there are just over 235,000 security professionals employed at various levels, and they average a salary of around $43,000 annually. Because of this in-demand market, Florida is one of the best states for security careers in the United States.
Florida has a long history of being a port state and bringing in products onto its shores. For the U.S. Border Control Protection and Homeland Security, maintaining the security of Floridians requires the assistance of a federal hand. Drugs have been smuggled into the United States through Florida borders for years, and the influx of security professionals at the various levels helps maintain and fight this crime as a way to minimize its presence.
Security Workers: 235,400
Average Salary: $43,310
---
5. Illinois
The state of Illinois is home to the highly populated Chicago, which brings visitors and residents by the millions to the state annually. With as many attractions and areas that are high profile in this state, it is essential to have a high-security presence. Because of this, there are over 150,000 security workers employed in Illinois at different levels. They also average a salary of $54,000, making them one of the best states for jobs in security.
In Chicago specifically, many security personnel find that domestic crime and terrorism is a significant problem that requires a stronger security presence as opposed to other cities in Illinois or across the nation for that matter. Because of this, most of the security positions range from private security to law enforcement, and even federal agents. Those who want to accelerate their security career will have success when working as a security professionals in Illinois.
Security Workers: 151,070
Average Salary: $53,750
state
---
6. New Jersey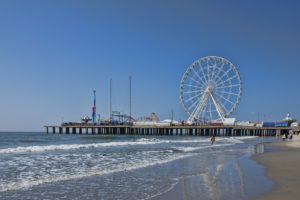 In the state of New Jersey, there is a high-security presence and industry, but it is not as federally employed as other states. Many of the 109,000 security workers employed in the state work for a private firm that contracts out security guards. They are paid one of the highest average salaries, around $57,000 annually.
New Jersey is a tourist state that attracts thousands of visitors annually to take advantage of its shore and Atlantic City atmosphere. School districts and other educational facilities have also looked to hire additional security to protect their students and ensure that enough capable hands are on the premises should an attack happen. With the presence of security guards and teams across the state in a variety of industries, the private security industry is in high demand and finding themselves in a shortage of employees to meet the position requirements in these busier areas.
Security Workers: 109,980
Average Salary: $57,570
---
7. Washington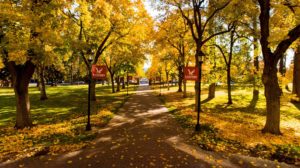 In Washington state, security is also a growing industry as the crime industry continues to grow in the area. Most of the security personnel that is hired throughout the state are found at the state, local, and private levels of the industry. There are over 66,000 security workers employed and their salary is just under $60,000 annually on average. Because of this high demand, Washington is one of the best states for jobs in security.
With many companies, neighborhoods, and other community areas having a growing concern for safety, the hiring of private security guards, teams, and managers is on the rise in this state. With many of the residents doing well financially in the state, this has attracted some unwanted attention to the Northwest corner of the United States and elevated crime across the state. For those looking to enhance their hands-on experience and move into the private sector, this is one of the best state options.
Security Workers: 66,080
Average Salary: $59,340
---
8. Massachusetts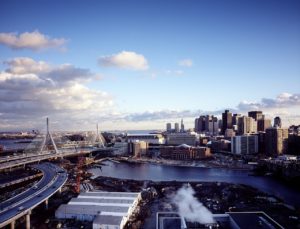 The state of Massachusetts is no stranger to the need for security and its necessity in the protection of Massachusetts residents. In this state, there are over 77,000 security workers employed, and they are averaging an annual salary of $57,000. These security professionals have taken on careers in each sect of the security industry, making it one of the best states for security careers.
In Massachusetts, there are several federal offices for the security agencies headquartered in Washington DC. Because of this, many who want to pursue security as a career, but not get into the field can pursue a career as a security analyst, where intelligence is gathered and evaluated to determine any threat to the American people. While it does not require the same interaction as many security professionals do, it is essential in the maintaining and protection of the American people and their visitors to the state of Massachusetts.
Security Workers: 77,220
Average Salary: $56,970
---
9. Pennsylvania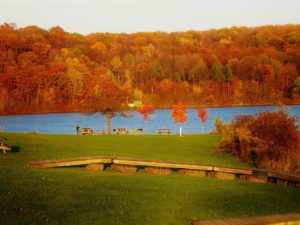 The state of Pennsylvania holds a similar connection to American history as the state of Massachusetts and requires additional security to protect monuments and areas that are essential to American history. Throughout the state of Pennsylvania, there are almost 130,000 security professionals that average a salary of $45,000 annually. Because of this significant security profession at a number of levels and agencies, Pennsylvania is one of the best states for security careers.
The state of Pennsylvania houses specific structures that are essential to American history and require around-the-clock security to prevent crimes and vandalism to the property. Also, there are national sports teams and arenas in two major cities, Pittsburgh and Philadelphia that require an excessive amount of security at games and events where thousands of people gather at one time. Pennsylvania is only going to continue its growth and demand for security professionals in all variations of the industry.
Security Workers: 129,090
Average Salary: $45,870
state
---
10. Virginia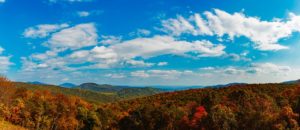 Another state that has a high demand for the security industry in Virginia. With just over 100,000 security professionals employed in the state, they have average salaries of $48,000, which is one of the highest in the nation. This is also because there is an opportunity for growth in this state for those in the security field. Because of this, Virginia is one of the best states for jobs in security.
Virginia is home to many federal security workers who work in Washington DC or live and work in Virginia which borders the United States capital. Because of its proximity, many corporations and smaller government agencies utilize Virginia as their headquarters location. Also, there are several military bases and a significant population compared to its southern neighbors. Those employed in the security industry have the options to take the analytical route as a security analyst, pursue a career as a federal agent, or move forward in law enforcement in their local area.
Security Workers: 103,270
Average Salary: $47,880
---
Why Should I Go Into Security?
When you are looking into the public or private security sectors, you may have concerns about your career objectives. Is security a good career for your goals? Do you need to obtain a higher level of education for your job? The security job market is changing to reflect different industries and their requirements.
---
Security Careers for Military Veterans
Security careers are a good choice for military veterans. A key reason military veterans do well in the security sector is the skills they developed during their military service. Veterans understand the role of training in their jobs and have the experience with the technology they need to work in the fast-paced physical security industry. Along with the physical discipline of the career, veterans are dependable and have gone through rigorous training with the military. Furthermore, veterans have the advantage of multiple background checks and security clearance from their time in the service. That gives employers confidence in their skills.
Top 10 ROTC Programs for Security Majors
Individuals who are not military veterans can still benefit from a security career. The security industry is changing to reflect a growing interest in technology and advancements. Individuals who have come from a technology-focused career have an advantage when it comes to cybersecurity and measures to protect the company or government agency's data.
Individuals who come from careers in physically challenging jobs have the advantage of their physical skills. Security is a good career path for many professionals because it offers opportunities for advancement and an array of different roles to maintain security for a business, government agency, or even a private individual.
---
Are Private or Public Security Jobs Better?
When you are comparing potential job opportunities for your career in the security industry, you may want to evaluate the differences between private security careers and careers in the public sector. The public security vs private security comparison will help you identify the opportunities that fit your specific goals and standards.
---
Private Sector Security Pays More
As a general rule, jobs in the private sector focus on revenue and growth. Your salary and benefits come out of the company's profits. That means that there is a higher risk of losing your job in the event of a recession. If the company does not make enough to pay your salary, you may face layoffs or pay cuts. While there is a risk associated with recessions, it is also important to recognize that many private-sector jobs offer a higher salary for experienced professionals. You may also have opportunities to gain better benefits when you advance in your career or you work in a security company with a high-profit margin.
---
Public Security has More Job Security
Public security careers are funded by taxpayers. That means you have a greater amount of job security. A recession is not likely to result in losing your job and you will still have the benefits that come from working in the government. You also have the advantage of working in an industry that has a high rate of jobs. The state and federal governments are constantly looking for new professionals to replace individuals who retire or for new roles that arise due to the growth of technology. That means you can find a job in the government at any time of the year.
The differences between the public and private sectors help you determine the best course for your job. Keep in mind that there are advantages and disadvantages for both industries, so you will want to compare your compensation, benefits, and jobs security before deciding on a job that fits your expertise and training.
---
Related: