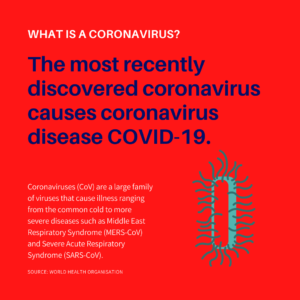 Novel coronavirus, also known as COVID-19 is sweeping the nation in the worst possible way. Healthcare agencies, like Johns Hopkins University and Medicine, are providing daily updates on the number of infections and deaths linked to the pandemic. Coronaviruses have been around for some time, but the COVID-19 is a newly discovered type. The first appearance of COVID-19 is traced to Wuhan, China in December of 2019. With a fatality rate of 3.4 percent, health experts are warning high-risk populations to take extra precautions to avoid exposure. As of March 12, 2020, more than 120,000 people in the world have tested positive for the novel coronavirus with that number expected to grow rapidly in the coming weeks.
COVID-19 is spread mainly through droplets expelled during coughing. The transmission of the disease is possible, even in an infected person with mild symptoms. The main symptoms include a dry cough, fever, and fatigue. The rate of infection and the serious nature of the pandemic has created a threat to national security. Government officials are responsible for making lightning-fast decisions to protect as many citizens as possible from a pandemic we have never witnessed in our lifetimes. The following are a few questions many have about how COVID-19 impacts national security and what are the expected government response to containing a pandemic.
Why is a Pandemic a Threat to National Security?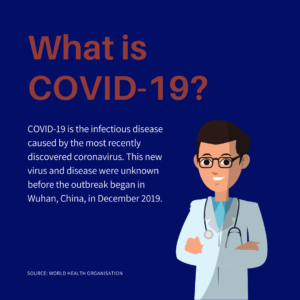 Global health crises are a threat to national security because if not contained, outbreaks become widespread. Many pandemics that start in countries without the resources to stop the spread of infection put all countries at risk. As more and more individuals become infected, the challenges are harder to contain the infection.
Pandemics like the novel coronavirus are not merely a health risk to members of the country. Widespread epidemics have the capacity to cripple the United States economy. Millions of dollars in imports and exports can be lost due to a pandemic, according to the Centers for Disease Control. Travel restrictions due to contagion fears are crippling to the tourism industry. Although the lasting effects of the novel coronavirus is yet to be seen, early impacts are already being felt. There is a major disruption in global travel, a decrease in corporate earnings, and the stock market has plunged like never before.
The United States government was aware of how much of a threat an epidemic like coronavirus could be to national security. In 2019, the U.S. Intelligence Community ranked vulnerability to an epidemic as the top security threat the country faced. The amount of spending needed to alleviate the security threat of COVID-19 is likely to be far greater than any other amount before. As an example, during the Ebola outbreak in 2014, Congress appropriated $5.4 billion on prevention and preparedness efforts. As of March 2020, the Trump Administration signed a coronavirus funding bill of $8.3 billion. The funds will go to multiple agencies with the majority going to the Office of the Secretary of the Human Health Services. Additional agencies that receive funding include state health departments, local health departments, vaccine and treatment spending, and international response efforts.
Who Makes Decisions About
COVID

-19 Response?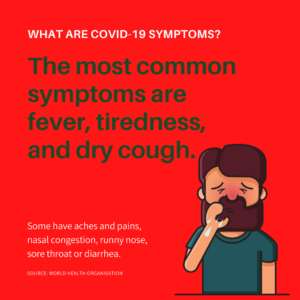 To fight threats like COVID-19, a clear chain of command is needed. This chain of command is intended to stop a pandemic from spreading on both an international and national level. Emergency preparedness procedures are designed to reduce societal disruption and prevent as many fatalities as possible. In 1999, the World Health Organization developed specific recommendations on how government agencies should handle a pandemic. The recommendations include:
Choose a chain of command. Put into place a management process specifically for pandemic outbreaks.
Develop a communication plan on how to get information out to agencies as quickly as possible. The supply of information needs to get to medical professionals and the public to help everyone make informed health decisions.
Develop stockpiles of available treatments as quickly and efficiently as possible.
Plan a vaccination strategy and treatment strategy. Government officials need to be mindful that shortages are likely to occur in the event of a pandemic.
The national government is considered the leader in disaster and emergency management protocol during a pandemic. The national government decides preparedness and response procedures by enacting legislation and policies to guide state and local governments. The national government must provide guidelines for allocating resources to enact any pandemic plans.
The health sector is also responsible for assisting in developing protocols during pandemic outbreaks like the novel coronavirus. Public and private healthcare service providers are responsible for assisting government officials in making the right decisions about lowering the risk to public health. First and foremost, the health sector is meant to raise awareness of the pandemic and inform the public about what precautions to take to reduce the spread of the virus. Reliable information must be taken from medical professionals and shared with the public. Health officials give information on risks and what to expect as far as the progression of the pandemic. Health officials are also responsible for ensuring healthcare and community facilities remain sterile to reduce the spread of the disease. Support is also provided through the health sector to employees treating patients during the pandemic.
Community groups and families are also responsible during a pandemic since cooperation helps lower the number of those impacted by the virus. The Department of Homeland Security makes the following recommendations to prepare for a pandemic like the novel corona virus:
Store two weeks worth of food and water.
Have all non-prescription medications on hand, including digestive medicines, cold treatments, allergy medicines, and pain relievers.
Get copies of all health records to keep on hand in case of exposure to the virus.
The World Health Organization plays a vital role in the pandemic disaster response. The WHO works with governments to assist with vaccine research and production, contain rapid transmissions of the disease, and assess the severity on public health.
What Rules are in Place for Travel and Border Security?
The Centers for Disease Control has developed a chart to assist with deciding the risk of traveling to countries greatly impacted by COVID-19. The CDC has recommended avoiding non-essential travel to the following countries as of March 2020: China, Most of Europe, and Iran. Although the CDC is responsible for making health recommendations on travel to reduce novel coronavirus infection risk, the Department of Homeland Security is responsible for enforcing travel restrictions.
Travel rules are subject to change, but President Trump signed multiple laws in regards to travel restrictions for the United States. The three key pieces of legislature include:
No entry for foreign nationals who have traveled to China within the last 14 days.
No entry for those who were in Iran for the last 14 days.
No travel to and from Europe is banned with only special cases being permitted.
The U.S. Department is allowing the return from Europe for U.S. citizens, but travel must be done through government selected airports. At these airports, enhanced screening processes are in place to prevent the spread of the novel coronavirus. U.S. citizens returning from China are also allowed in the country, but are subject to a mandated 14-day quarantine period.
Not all European nations are a part of the travel ban. The restrictions are for the 26 countries that are located in what is known as the Schengen Area. This area has been impacted the most by COVID-19. Britain, Ireland, and Turkey are a few countries that have exemption from the current ban. Exemptions apply to members of the military and those who are parents, spouses, and siblings of U.S. citizens.
Those returning from Europe are allowed to fly into 13 select airports with increased screening processes in place. Homeland Security will screen returning passengers and ask that the travelers self-quarantine for 14 days.
Customs and border control officials are responsible for the screenings of travelers to prevent the spread of COVID-19. Travelers fill out questionnaires about symptoms and are evaluated by health professionals. Airport and airline workers have also been trained to note and report any passengers with signs of respiratory distress. Coronavirus travel advice from the government is to avoid any nonessential altogether until the threat is mitigated.
Going forward the response to COVID-19 is likely to change with new policies enacted on a daily basis. Societal disruption has been significant with major tourist destinations, like Disney World and Disneyland, shutting down and national sports leagues suspending all games. School districts have closed and enacted remote learning policies. Since there are many unknowns associated with the novel coronavirus, it complicates the government's response to the pandemic. Large-scale diagnostic testing has not yet been put in place and there isn't dedicated hospitals being used to treat those suffering from the infectious disease. Multiple agencies, including the Department of State, the Department of Homeland Security, and the Department of Health and Human Services all play a role in handling preparations and response to threats like COVID-19.
Related Content:
10 Federal Agencies for Security Careers