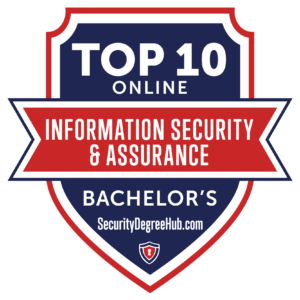 Online Information Assurance degree seekers are in great need and have become a necessity in the IT industry. Since the tragedies of September 11, 2001, many IT companies have become more prevalent in finding exceptional employment in the field of both computer and information technology, including physical security job opportunities. Whether it may be physical or cyber threats, hacking problems continue to rise in the IT industry. For example, the growth of credit and insurance fraud has risen exponentially over the past decade. There are also now hacking tools openly available to the public and are used for infiltrating viruses and worms on computer and information systems of today. This is why the need for both students and working professionals in the IT field to seek out the online Information Security and Assurance degree program. Below are the top 10 Online Information Security and Assurance Bachelors.
Each School's program provides the best curriculum available for the IT degree and some offer top electives or concentrations. Many of the colleges on this list also provide low student-to-faculty ratios and exceptional instruction from the top professionals in the IT field. Some also offer accreditation and top rankings from college ranking sites. The average length of the degree program is 120 credits and is completed within three to four years. In addition, many colleges and universities may accept up to 90 transfer credits from an accredited institution, allowing the student to finish in half the time. The hardest part is choosing the best fit for your degree plan.
---
1. University of Maine at Augusta

The University of Maine at Augusta offers a BS in Computer Information Systems with a concentration in Information Systems Security. The CIS program provides hands-on applications in areas of hardware and operating systems, networking and security, systems analysis, database design, and applications development. Courses will offer a wide variety of distance modalities, helping to bring each student closer to their educational goals. Students can also select from over twenty information technology electives, specifically designed to increase career goals. To enter the BS in Computer Information Systems, students will need basic technical, communication, and organizational skills. These include maintaining databases, creating graphs/charts, thinking logically, and categorizing data. The CIS program at the University of Maine also works along project>Login to establish partnerships with local businesses in order to expand the network of IT professionals through education, information, and internships.
As CIS graduates, students will have successful career opportunities in several areas. These may include Network Systems Administrators, Network Managers, Systems Analysts, Web Developers, and Database Administrators. The University of Maine at Augusta is among the best online information assurance degree programs throughout the state of Maine.
---
2. Davenport University

Davenport University, located in Grand Rapids, MI, offers a BS in Cyber Defense is an online program, focused on Information Assurance. The course curriculum will also introduce students to how to defend against cyber attacks and hackers that infiltrate our technological infrastructures. The program is 120 credits and assists students in gaining a unique perspective of Information security and assurance as it deals with cybersecurity measures. Students will also apply digital forensic techniques when solving security issues through computer security courses that are leading the way in the cybersecurity field. The program courses will include network security, database design, and security foundations. Computer security courses such as Perl/Python scripting and Windows digital forensics will also be discussed. There are also two specialties offered: health care information and assurance or information security.
The BS in Cyber Defense is taught by the industry's top experienced faculty, with close links to the cyber community. Davenport is also among the best online information assurance degree programs available nationwide.
---
3. Drexel University

The online Bachelor's in Computing and Security Technology program at Drexel University prepares both undergraduates and working professionals in the fundamental concepts of cybersecurity and information technology. The purpose of the program is to educate professionals in computer system administration and cyber security. Once graduated, students will be able to analyze problems, including identifying and defining the computing requirements appropriate to their solution. Students may also design, implement, and evaluate a computer-based system, process, component, or program to meet desired needs. Graduates will also learn the effectiveness of working in teams to accomplish a common goal. The full program is broken into four 10-week quarters per year, allowing students to take more courses in less time. Students can also transfer up to 90 quarter credits from an accredited institution with a passing grade. Drexel University provides a flexible class schedule that allows students to work at their own pace.
---
4. Oregon Tech

Oregon Tech's BS in Information Technology prepares students for an interdisciplinary program, focusing on economic applications for the future of the IT world. The courses in the program provide IT specialties, such as Application Development, Systems Analysis, Data Management, and Analytics, Information Security, and Network and Systems Administration. Students will be introduced to core business disciplines such as analytical skills and problem-solving, business organization and management, and project management. Other skills will include leadership, working among teams, and communication skills. With each of these skills, students can advance in the IT field and also seek higher employment opportunities. Graduates of the BS in Information Technology degree will find employment in many top industries, such as Intel, Google, Nike, and Asante Health Systems.
Oregon Institute of Technology receives a specialized accreditation for its business programs through the International Accreditation Council for Business Education (IACBE). 96% of graduates with a BS in IT can easily find work making at least $60,000 annually within six months after graduation.
---
5. Limestone College

Limestone College's BS in Computer and Information Systems Security offers an online, comprehensive program, designed to provide students with the fundamentals of Information technology disciplines. The courses are taught through lectures, assignments, and exams, and are available through the Canvas online learning system. All courses provide flexible scheduling, allowing the student to learn at their own pace. Students can take two courses in eight-week terms. Transfer credits from other accredited colleges may be acceptable credit.
Students will also be eligible to become a Certified Information Systems Security Professional (CISSP), Check Point Certified Security Administrator (CCSA), or an International Association of Computer Investigative Specialists (IACIS). Graduates may also find work as a Security Professional (CIW) or as a CompTIA Security professional. Limestone offers a variety of undergraduate degrees, as well as graduate programs for eligible students. The college is among the best online information assurance degree programs nationwide.
---
6. Saint Leo University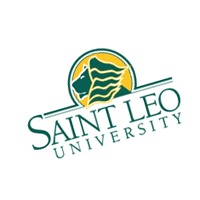 The BS in Computer Science degree at Saint Leo University offers students an exceptional learning experience. The program will help students expand into their future career goals within the IT industry. Students will also learn from world-renowned professional experts and dedicated staff to help students excel. With this BS in Computer science degree, students will also learn the importance of contribution, as it relates to today's information economy. Students will gain skills in programming, computer forensics, information security, internet applications, and artificial intelligence. Undergraduates will also learn how to solve real-life programs as it pertains to the design, development, support, and management of hardware, software, multimedia, and systems integration services.
Students who excel in their studies may be selected for induction into Saint Leo's Omicron Chapter of Upsilon Pi Epsilon, the international honor society for distinguished scholars in the computing and information systems disciplines. SLU is among the best online information assurance degree programs nationwide.
---
7. Liberty University

Liberty University's BS in Information Technology prepares students and working professionals for the IT field. This online bachelor's program is 120 credits, with 8-week courses. The curriculum will cover topics such as Information Systems (IS) and Information Assurance (IA). Students will learn and receive training on protecting the integrity and confidentiality of information systems within organizations. In addition, students will learn how to manage security networks within the IT industry, including the skills to keep businesses running smoothly and data safe. Students may transfer up to 75% of their credits from another accredited institution, if eligible. The average length of the program takes approximately 3.5 years to complete. The BS in IT program at Liberty is ACBSP-Accredited. LU offers 15 colleges and schools with over 100,000 students and over 700 programs. Liberty University also holds accredited by the Southern Association of Colleges and Schools Commission on Colleges (SACSCOC).
---
8. Norwich University

Norwich University's BS in Cybersecurity with an emphasis in Computer Forensics and Vulnerability Management is an online program, designed for working professionals. The program combines core principles of cybersecurity, electives, and project-based courses, allowing students to explore topics in greater depth. The curriculum provides skills-based instruction, such as critical thinking, communication, and research skills. Students have the option to transfer up to 90-semester credits while completing the cyber security degree in less than two years. There are also several start dates each year, allowing students to enroll on their own schedule. The complete program only has 30 credits and takes 18 months. Norwich University holds accreditation with the New England Commission of Higher Education.
For over 200 years the University has been developing leaders throughout several industries, nationally and around the globe. The BS in Cybersecurity takes part in the Center of Academic Excellence in Cyber Defense Education, the NSA, and the DHS. The college is also among the top online information assurance degree options in the nation.
---
9. Peirce College

Peirce College's BS in IT Networking, Administration, and Information Security prepares students with the knowledge and skills to become instrumental professionals in the IT field. Students will learn to analyze problems, identify IT systems, and define computing requirements to find appropriate solutions. Students will also select, design, integrate, implement, evaluate, and administer computer-based systems to meet the demands of each user's needs. The BS in IT Networking program also allows students to work effectively in teams to accomplish a common goal. The program also provides concentrations with the degree. For example, Networking, Administration and Information Security, and Programming and Application Development. In addition, up to 90 transfer credits may be available and applied toward the BS in IT degree. Students can also earn credit for select IT certifications.
The Total Credits for the Bachelor's Degree are 121. BestColleges.com ranks Peirce College's BS in Information Technology program as one of the top 25 online IT bachelor's programs nationwide.
Visit the program
---
10. Western Governors University

Western Governors University's BS in Cybersecurity and Information Assurance Prepares students for an exciting career, dedicated to fighting the attacks of cybercrimes. Curriculum highlights will cover Secure Systems Analysis & Design, IT Fundamentals, Network and Security, Scripting and Programming, and Digital Forensics and Incident Response. The WGU cybersecurity program includes 14 top certifications, allowing students to start boosting their résumé before graduating.
In addition, CompTIA and ISC² industry certifications are built into the curriculum at no extra cost to the student. Students should have a strong background in technical writing, ethics, and cyber law before enrolling in the program. The program instructors are from the top cyber security experts and leading IT companies in the nation. WGU is among the most affordable online Cybersecurity degrees. 70% of graduates of the BS in Cybersecurity and Information Assurance finish within 29 months. Students can transfer 37 credits toward the BS degree.
Visit the program
---
Why Should I Get My Information Security Degree Online?
Choosing to get an Information Security degree online can provide many benefits to the graduate student. Their time to finish an online degree is often cut in half, allowing the student to focus on building their education portfolio and working in the field all at the same time. Many Information Security professionals have a wide range of roles within an organization or business. Some duties include creating, implementing, and maintaining security for databases or electronic assets. Others work to detect and prevent electronic threats while managing networks. So, receiving an online degree would be useful for the working professional. Earning an online Information Security Degree provides other benefits as well.
There are instructors that are highly trained and offer support to students through online learning modules, allowing for better connections and convenience for the student and teacher. There is also the fact of supply and demand; that is, the need for online degrees has risen over the past decade. All in all, the information security field is very competitive, and earning this online degree would be worth the time and effort.
What is the Difference Between Information Security and Cybersecurity?
For the average person, it is sometimes hard to tell the difference between the fields of Cybersecurity and Information Security. For those investing time toward a career in one of these, it is important to understand the proper security terminology for each line of work. Let us discuss what they are, how they may overlap, and how they may differ.
Cybersecurity is to protect and defend the use of cyberspace from any cyber-attacks. Basically, cybersecurity works to secure anything that may be vulnerable to hacks, attacks, or unauthorized user access. This can include computers, devices, networks, servers, and programs. Or, protecting data that comes in a digital form.
Information security refers to protecting the confidentiality, integrity, or availability of data from unauthorized individuals in whatever form it may be in. However, there is sometimes an overlap between the two. The differences between cybersecurity and information security can cause confusion. For example, Cybersecurity professionals will take on active roles in protecting IT equipment such as servers, endpoints, databases, and networks. Yet, information security concentrates its efforts on ensuring data in any form.
How Much Can I Make with an Information Security Degree?
With almost any four-year degree, students will more than likely make more than if they obtained an associates or just some college credits. For the bachelor's in Information Security, however, graduate students will find employers that are willing to pay more for the education level and the strong skill set that many IT schools or institutions may offer. The role of an information security specialist or analyst is detrimental to many companies within the IT industry. Many companies have to deal with sensitive databases, such as federal banks and healthcare organizations. For instance, Keeping patient data private within healthcare organizations is a priority.
Other lucrative job options similar to the Information Security salary are as follows:
Chief Information Security Officer

Information Security Analysts

Forensic Computer Analyst

IT Security Engineer

Security Systems Administrator

Database Administrator
According to the Bureau of Labor Statistics, the Information security profession pays out $103,590 per year, with an average pay of $49.80 per hour. In addition, the job growth continues to increase by 31% from now till the end of this decade. In fact, statistics show that by 2029, there will be around 171,900 new positions available for those in the Information Security field and related fields.
---
Related: