Information Security degree jobs require strong analytical skills for this career field converging with the technological world. The Information Security Analyst career field is making headway within the technological world of today. Information security analysts are required to have strong analytical and communication skills in order to protect a company's electronic data. As technology is constantly changing and improving, so must a company's data assets.
An information security analyst will oversee an organization's computer networks, systems, and identify strategies that make businesses and companies more efficient and safe. Information security analysts also lead a company's efforts to counter system breaches or prevent one from occurring again. Earning an Information Security degree will provide the first steps toward an entry-level position in the information security field.
Featured Schools
Skills of an Information Security Analyst
As mentioned above, an information security analyst must have strong analytical skills. In addition, in-depth knowledge of computer networks, digital systems, and excellent troubleshooting and problem-solving techniques. Being detail-oriented or a person that can detect system performance changes is helpful and very useful as an Information security analyst.
It is highly important that Information security analysts stay up-to-date with both current and emerging network security systems, including possible cyber attack strategies that may affect our domestic and international borders. Next, let's talk about the information security analyst career degree.
The Information Security Analyst Degree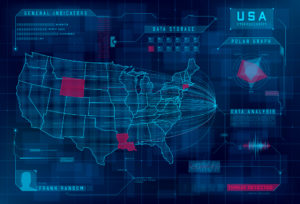 Choosing the right degree program in Information Security can be challenging. There are a wide variety of top online degree programs in Information security available to prospective students and working professionals currently in the field. However, the best online programs in Information Security will provide the necessary skills and knowledge to become successful in this rapidly growing and lucrative field.
Most degree programs will offer courses in digital forensics, ethical hacking, cryptography, and Network architecture and security planning. Most courses in the Information Security analyst degree will address integral concepts and principles in the field of information security. In some cases, the degree program may offer concentrations or specializations pertaining to subfields of the degree.
Courses in an Information Security Analyst Degree Program
Here are some of the most common courses within the Information Security Analyst degree:
Ethics, laws, and the computer industry

Forensic principles of information security

Types of malicious software

Creating and developing security regulations and policies

Understanding of security breaches

Tactical analysis of security systems and data programming
Depending on the school, hands-on experience and virtual labs may be available. Most degrees will include a capstone course, allowing students to demonstrate their acquired skills obtained throughout the degree program. The Information Security Analyst degree is available as both an associate and bachelor's degree.
Employers looking for workers in this field may hire 2-year degree graduates. However, be aware the pay may not be as high as those with 4-year diplomas. Graduates of the associate degree or bachelor's degree program in information security may pursue a graduate-level degree. Options of this sort may include the Master of Science in Information Security, a Master of Science in Computer Science, or the Master of Science in Management Information Systems.
Information Security Analyst Salary and Job Outlook
The Information Security Analyst career field has the potential to make a very lucrative salary. According to the Bureau of Labor Statistics (BLS), the 2020 median salary for an information security analyst is $103,590 annually. Of course, the salary depends on certain factors, such as years of experience, job location, and education level. The BLS projects that the field will also increase job growth by 31 percent by the year 2029.
Similar job positions to the Information Security analyst may include computer and information research scientists and computer programmers. Also, database administrators and digital designers may be similar to the IT field. There are many reasons that this field continues to increase. One primary reason is the fact that cybercrimes and attacks have become a major player and an anticipated threat throughout the information security field as companies rely heavily on digital technologies.
Accreditations
There is more than just choosing the right degree program at the right school or institution. Having a strong understanding of accreditations is also a must. Accredited institutions, whether it be community colleges or high scale universities, are those that have met quality standards from accredited organizations or sponsors. Some are regionally or nationally accredited.
Whichever you choose, each accredited school will have a lasting effect on your academic goals and success in the Information Security Analyst career field. The US Department of Education determines the right accreditations for each institution and who is eligible to receive federal funding. The DOE does not accredit the schools themselves, yet they do rely on information collected from several organizations such as the Council for Higher Education Accreditation (CHEA) to make their decisions.
---
Related: