Public safety management, often called Public Security, involves protecting the public from any crime, disaster, or other potential threats that may affect the public's safety and wellbeing. The Public Safety professionals work on coordinating and implementing resources and developing strategies to protect and serve each community they touch. 
What is an Example of a Public Safety Service?
Some examples of public safety professionals are police officers firefighters, and first-responders. They are also often on the frontlines, and dedicated to keeping citizens safe and out of harm's way. For those in management positions, professionals could benefit from having a background in strategic planning. Other benefits are tactical and critical-thinking skills, and knowledge of preparedness strategies.  
Characteristics of a Public Safety Professional
Able to organize emergency response training to all staff, volunteers, and other responders.

Meet with either public safety officials, private companies, and the public, in regards to emergency response plans. 

Assessing hazards and prepare plans in responding to any emergencies and disasters to minimize risk factors to both people and property. 

Review the current emergency operations plans for the local area, and revise them if necessary.
Public Safety Management Associate Degree
To become a Public safety administrator or director, there is extensive training and education needed. For those at entry-level positions, the AS in Public Safety Management will suffice. Many 2-year community colleges and technical institutes offer the classes required to become a public safety professional. However, some state-run universities are now offering the degree as well.
Common courses for the degree will require students to take basic principles of public safety and crisis and disaster management. Courses in the public safety degree will also cover public safety policies and law, criminal justice, and personnel management. In addition, some courses may also include civic leadership, public finance, risk management, administrative management, and ethics in criminal justice. 
In more extensive programs, Terrorism prevention and Cybersecurity courses may also be part of  the associate degree programs as well, in regard to specialty or concentration choices.  To find the top colleges offering the AS in Public Safety, please check out this link. 
Bachelor's Degree in Public Safety
Many graduates of the AS in Public Safety choose to continue their education towards the bachelor's degree level of the public safety field. In fact, most employers may prefer the applicant to earn the 4-year degree. Applicants should consider working towards the BS in Public Safety before getting hired for the job.
For those who do go on to more education, it will provide the graduate with more extensive training, skills, and knowledge of the field, as well as career opportunities toward advancement and possible higher salaries. 
What Qualities do Employers look for in Public Safety Administrators?
Communication skills: To clearly speak and convey knowledge of emergency preparedness, whether orally and in writing, to a variety of audiences.

Critical-thinking skills: To anticipate hazards and problems arising from any emergency while responding effectively.

Leadership skills: Ensuring effective responses to emergencies are administered. In addition, emergency management directors will benefit from leadership skills in times when they need to organize and train people within the field.

Decision-making skills: As an Public Safety Director, stressful situations will occur. Having the ability to analyze and choose the best options is necessary as a public safety administrator or emergency manager.

Interpersonal skills: When you are a Public Safety administrator, working with government agencies, law enforcement, and fire officials is often a must. Graduates will also work along the public in coordinating effective emergency responses.
Careers in Public Safety and Job Outlook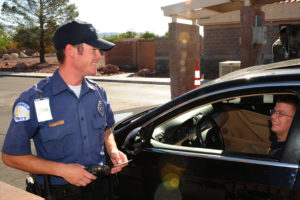 There are a variety of career opportunities to explore as a Public Safety Professional. According to the BLS, public safety positions can range from law enforcement officers, emergency management personnel, and firefighter services. The job growth for these positions are increasing as well.  For example, the field of emergency management directors is expected to increase by 4% over the next decade.
Public Safety Management Salary
As of 2020, the median salary was $76,250. Most candidates for this position tend to require at least a bachelor's degree in either public safety, emergency services, or other related studies. However, higher positions within the field may earn annual wages of six figures. For example, administrators, who may earn as high as $142,870 annually.
Often many public safety professionals choose the emergency management line of work. Consequently, the Emergency management director field is quite a small occupation.  Many state and local governments do not always have a budget for new applicants. Yet, some openings expect to become available as experienced public safety professionals retire or move into other fields of interest.
Most applicants with the best extensive work experience and highest level of education in the field are often hired or chosen in emergency management positions. Overall, the need for well-trained public safety professionals continues to increase. Choosing this field will bring many benefits and opportunities to make a difference in the communities you serve.  
---
Related: