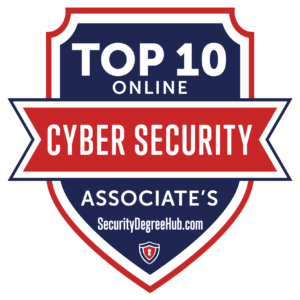 The top online Cyber Security associate degrees are found throughout the US and students can complete a program in two years. In today's growing technological world, there is a huge need for individuals to keep their personal items and important documents safe from cyber hackers, internet threats, and anyone trying to break their computer infrastructure. This goes the same for businesses, corporations, and government and federal entities. Starting a career in Cybersecurity is a great choice and an associate degree can help an individual get started on the right track. Many of the best online associate cybersecurity degrees can be found throughout the US. Earning an online Cyber Security Associate's degree can be very useful and may also be obtained in less than two years.
The AAS degree in Cybersecurity prepares both students and professionals for a lifelong rewarding career that can benefit anyone with strong analytical, problem-solving, and decision-making skill sets. Most courses will cover an introduction to Linux or Windows operating systems. Other courses may include network security, cyber hacking, and cloud administrator. Getting a start from the top schools in the cybersecurity field will provide many benefits. Below are the top 10 Online Cyber Security associate degrees.
Featured Schools
---
---
1. Bismarck State College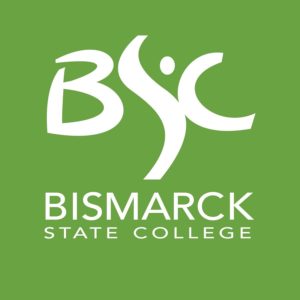 The AAS in Cybersecurity & Computer Networks Online program at Bismarck State College offers a comprehensive curriculum, designed to combine system administration fundamentals with foundational concepts in cybersecurity. This program trains students to implement, administer, and also secure operating systems and computer networks. The curriculum contains core classes in computer hardware, Windows and Linux operating systems, networking, security, and also programming. Students will experience real-life scenarios through hands-on labs and simulations. Bismarck provides an exceptional teaching staff that encourages students in security concepts and technologies. The complete program finishes in two or three years, depending upon prior preparation in Math, English, and Computers. Students also should have a strong skill set, such as logical thinker, detail-oriented, and able to understand how computers communicate.
BSC, located in Bismarck, ND, is the third-largest college in the ND University System and has approximately 4,000 students. The college is among the best online associates cybersecurity degrees in the Nation. The college also has a low student/faculty ratio. BSC offers a variety of Associate degree programs, from Accounting and Nursing to Criminal Justice and Sociology. The college also offers several types of certificate programs, ranging from 12 to 18 credits. Some credits may be transferable from other accredited institutions. BSC is among the best online associates cybersecurity degrees available nationwide.
Want to know more? Visit the program site!
2. Minnesota State Community and Technical College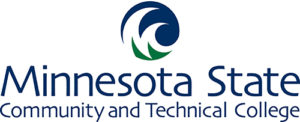 Minnesota State Community and Technical College offer an online AAS in Cybersecurity. The Cybersecurity program will allow students to gain a strong foundation in computer and network security while preparing for rewarding careers in the field of Cybersecurity. Courses provide a hands-on approach to information technology, with a focus on protecting data and networks from cyber threats. Most courses in the program will also utilize specific industry certifications standards while actively guiding class and curriculum development, according to the industry advisory board. Students will learn to use mechanisms available in an operating system and configure infrastructure server roles. In addition, students will also develop technical artifacts and examine ethical issues related to cybersecurity.
MState's complete AAS in cybersecurity is 60-credit. Although online, the 60- credit AAS degree, including the 30-credit certificate are both available at the Moorhead campus. The Network Security course will include a CompTIA Security+ certification. The college offers more than 200 online courses and 30 online majors and programs. It is also accredited by the Higher Learning Commission
Want to know more? Visit the program site!
3. LeTourneau University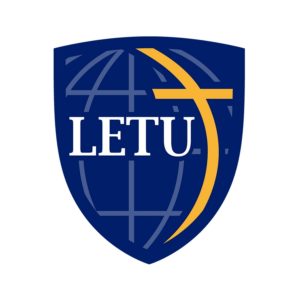 LeTourneau University's AS in Cybersecurity is an online program, designed for students and working professionals of the cybersecurity field. Students will learn hands-on computer science and cybersecurity skills to help them advance in the field. Cybersecurity programs at LeTourneau University focus on practical applications while preparing students for real-world workplace situations. The complete AS program is 64 credits which will cover courses in computer science, data structures, software engineering, and network security. Other core courses may include analysis of algorithms and digital forensics.
The AS in cybersecurity degree can be added to a student's pursuit of a Cybersecurity bachelor's degree. The cybersecurity and computer science faculty members are chosen from the top industry professionals with years of experience. LETU is a CHRISTIAN POLYTECHNIC UNIVERSITY, a place for those who learn by doing and the world is the mission field. LETU was also ranked 4th in "Best College for Education in Texas" and 5th Best Christian College in Texas" by Niche.com. The University is also among the best online associates cybersecurity degrees in the nation.
Want to know more? Visit the program site!
4. University of St. Thomas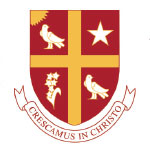 The University of St. Thomas in Houston offers an online AAS in Cybersecurity, designed for working professionals in the cybersecurity field. At UST, students will learn all the skills needed to begin or advance in a computer network career field. The good news about the AAS cybersecurity degree is that students can finish it in less than two years. That is half the time of a bachelor's degree.
The 60-credit hour program will cover all the necessary skills for a career in Cloud Administraton, Network administrator, Network designer, Network security administrator, or Systems support technician. Six hours of general education credits may be transferable into the A.A.S. degree. As our digital world continues to change, so must the way we protect ourselves from hackers.
Want to know more? Visit the program site!
5. Lake Superior College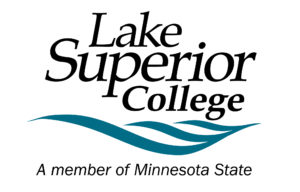 The AAS in Network Administrator & Cybersecurity online program at Lake Superior College offers an exciting degree for students interested in becoming certified in a variety of network security fields. These include CompTIA, Cisco CCENT, Microsoft MCP, or EC-Council Certified Ethical Hacker (CEH) certified. Students will learn practical concepts of server and network engineer skills, hardware support skills, and security essentials Upon Graduation, students will leave with the skills and knowledge needed to become certified. Students will also learn how to provide technical support for computer networks in business environments.
LSC, located in Duluth, is the only two-year institution and technical college in Minnesota that offers this program. The LSC Center for Cybersecurity provides a wide range of system security and information assurance services for both local businesses and the community. The LSC Center offers students with real-world learning experiences within cybersecurity partnerships. LSC is among the best online colleges for ROI and is one of the most affordable online cyber security degree programs. The college offers over 90 programs and is also Nationally Ranked for Quality and Affordability and one of the best online associates cybersecurity degrees nationwide.
Want to know more? Visit the program site!
6. North Central Texas College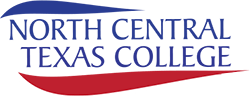 North Central Texas College's AAS in Cybersecurity offers an online/Hybrid program, designed for working professionals in the information technology and cybersecurity fields. The curriculum will focus on operating system security, firewalls and network security, and computer systems forensics. It will also touch on security assessment and auditing. Technical and business writing skills are helpful to have. Courses help students to demonstrate the ability to work effectively in teams, describe the cyber threat landscape, and identify corrective action against network threats. Courses are short 8-week terms; in addition, the 60-credit program will finish in less than two years.
NCTC offers six types of Associate's degrees, including certificates. There are also six NCTC campuses located throughout North Texas. The college has accreditation from the Southern Association of Colleges & Schools Commission on Colleges to award associate degrees and certificates of completion and is the oldest operating two-year college in Texas today.
Want to know more? Visit the program site!
7. Macomb Community College

Macomb Community College, located in Warren, MI, offers an AAS in Information Technology. The online certificate degree, specializing in Network Security Professional. The complete program is 48 credit hours, completed in four short semesters. Some AAS courses will include Business Communications, Principles of Networking, Introduction to Information Systems Security, and Network Design. Students will learn to apply fundamental network security knowledge, use cybersecurity tools and applications and configure systems to improve security. The Cybersecurity program holds an Accreditation to become CNSS Certified; in order to conform to NSTISSI 4011. The AAS program is 100% online. The college also offers 250 private scholarships to eligible students. About 80% of students leave MCC debt-free and provide a low student-to-faculty ratio for a better learning experience. Many students graduate with exceptional career opportunities for the Information Technology field. Students can also transfer and complete a bachelor's degree with ease.
Want to know more? Visit the program site!
8. St Louis Community College

St. Louis Community College offers an online AAS in Cybersecurity degree. This program is also available in a Hybrid format. Offered through the Business, Management & Technology colleges, the AAS cybersecurity prepares working professionals and students for entry-level positions in the field of information assurance. Students learn techniques for planning, implementing, upgrading, and also monitoring security measures. Additionally, students learn how to protect computer networks and information systems. Courses include computer architecture, programming and systems analysis, networking, and also cryptography. Other subjects of interest are security system design, applicable law and regulations, risk assessment, and policy analysis. Students may also learn investigation techniques and troubleshooting. They also develop skills to best respond to computer security breaches and viruses.
STLCC has had over one million students in attendance. It is also the largest institute of higher education in the region and the second-largest in Missouri. STLCC is institutionally accredited by the HLC. The college also offers 11 stackable credentials programs that can help you move up that career ladder without investing a lot of time and resources.
Want to know more? Visit the program site!
9. Ivy Tech Community College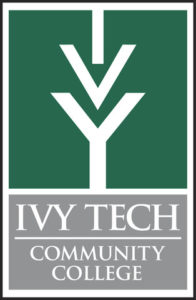 Ivy Tech Community College offers the AS/AAS cybersecurity degree program to all working professionals interested in the field of cybersecurity or other security-related fields. The college created this program to meet the high demand needed for quality-enriched cybersecurity education and training throughout the nation. In addition, the courses in the program will introduce foundational knowledge and skills to help students identify computer security attacks and threats affecting our computer infrastructures in today's modern era. The AAS in cybersecurity is also NSA-certified.
Ivy Tech also offers two free, non-credit Cyber Security courses. Both courses prepare students for future classes in the program. Ivy Tech Community College provides over 40 locations throughout Indiana and is also a nationally recognized college for training and educating prospective students in high-quality courses. Furthermore, the school also offers certificates and internship opportunities. Ivy Tech is the largest public postsecondary institution in Indiana and also the largest singly-accredited statewide community college system in the entire country.
Want to know more? Visit the program site!
10. Community College of Rhode Island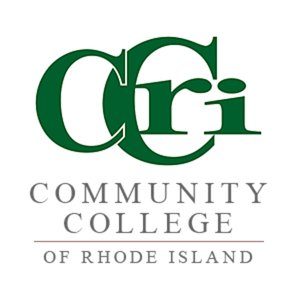 The online AS in Computer Studies and Information processing degree at the Community College of Rhode Island provides both prospective students and working professionals with a rewarding career path in cybersecurity. Courses will cover topics such as Introduction to Computers, Programming Concepts, Introduction to Spreadsheets, and Introduction to Database Software. It will also include an Introduction to the WINDOWS Operating System and an Introduction to Microsoft Project.
The total credit hours for the program are 60 credits with 21 core credits. This college is also the state's only public comprehensive associate degree-granting institution. Additionally, the school offers one of the most affordable tuition rates throughout the state and nationwide. CCRI is the largest public, two-year, degree-granting college in the New England region. Several academic support services are available to assist students in their academic success. Both programs and services at CCRI are available to full and part-time students, recent high school graduates, and also adult learners.
Want to know more? Visit the program site!
---
Why Should I Get My Cybersecurity Associate's Degree Online?
Well, that's a great question. And, here is one of the best answers to that question. Convenience. There are more and more schools, colleges, and universities moving to online formats. Students can take courses from their homes, offices, or even on their phones. Choosing the cybersecurity associate's degree online is by far one of the best choices for students to apply their skills to.
Another great reason is time. It only takes two years to complete an associate's degree compared to a four-year bachelor's degree. In addition, many schools now offer accelerated courses, allowing students to finish in half the time. Courses such as Intro to Computers, Intro to Programming, Networking, Software Development, Database Concepts, Program Design, and also Statistics are usually on the core list of any cybersecurity AAS degree program. So, here you have it. Two great reasons to choose an AAS in Cybersecurity online program.
Is an Associate Degree in Cyber Security Worth It?
There are so many reasons why getting an AAS in Cybersecurity is worth the time and financial commitment. For one, individuals with a two-year associate degree are more successful than individuals with a high school diploma or GED. Furthermore, the cybersecurity field is among the most sought fields students are applying their knowledge and skills toward in recent years. Therefore, an online AAS degree in Cybersecurity offers a variety of career opportunities.
Many students with an AAS degree will enter entry-level positions with ease compared to those with minimum work experience or non-degree applicants. Therefore, for students from one of these best online associates cybersecurity degrees, the career possibilities can be endless. So, is the Associate in Cyber Security Worth It? You bet!
How Much Can I Make with an Associate's in Cybersecurity?
Career salaries for those who enter the cybersecurity job market will vary on several factors. Employment opportunities change and may vary from state to state. On average, the salary for a cybersecurity job position is about $103,000, according to BLS.gov. Of course, this may depend on a number of different variables, such as location, employer, skills, training, and also education level.
Some common positions within the cybersecurity field are Information Security Analysts, Computer Network specialists, Computer programmers, and also Network system administrators. Each will earn a salary close to, or if not over six digits. Additionally, some positions may require students to have a bachelor's degree. However, for entry-level positions, most employers accept the AAS degree in Cybersecurity. Below are a few of the most common job positions and their annual median salaries for the cybersecurity field.
Computer and Information Systems Manager $151,150
Information Security Analyst $103,590
Systems Architect $93,730
Network and Computer Systems Administrator $84,810
Computer User Support Specialist $52,690
---
Related: