Looking for a job in the security job market can be challenging. But it becomes infinitely easier when you narrow down your job choices to the best states for jobs in security and the best states for security careers.
When searching for the best states for security careers, it is important to recognize that many of the preferred security jobs are those opportunities that come when working for some level of government. So, those interested in state government security work should refine their job search to include the best state governments to work for.
Featured Schools
What Makes Certain States Better for Security Careers?
One of the main reasons government security jobs are preferred over those in the private sector is that government employment is generally recession-proof, which provides added job security.
Overall, the states noted below generally offer tremendous opportunities, so they are considered among the best states for jobs in security.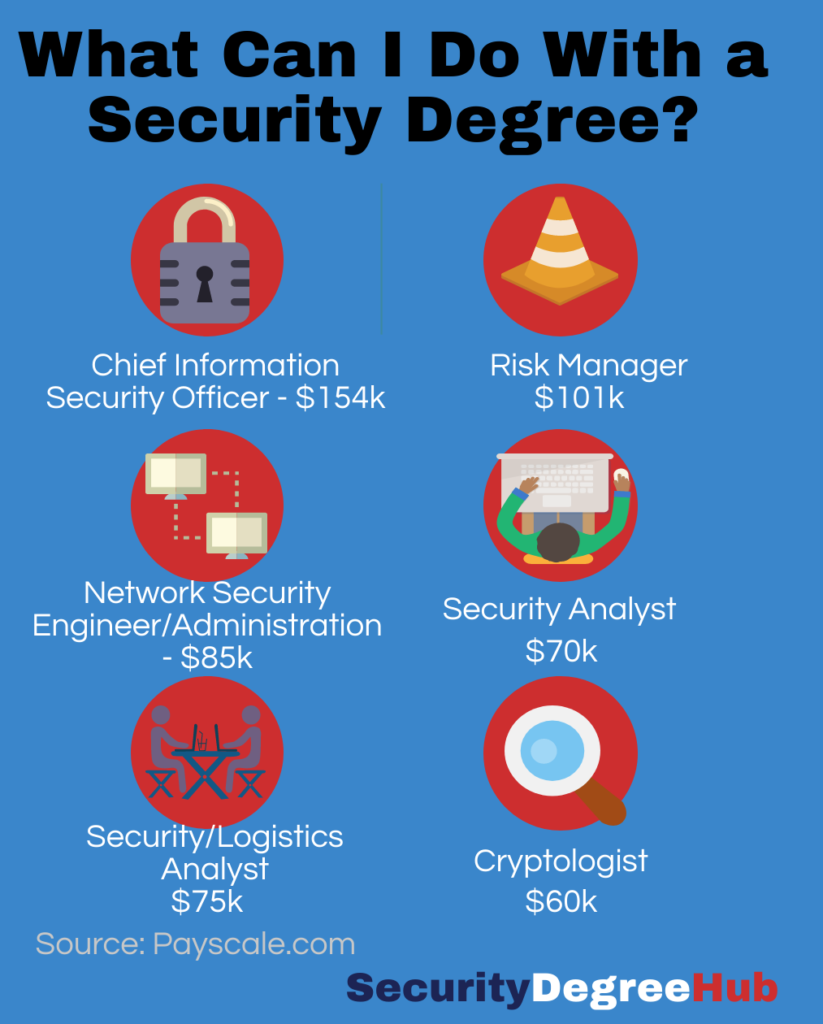 California
Security jobs in California run the gamut – from event staff to bodyguards or federal agents. Several hundred thousand individuals are employed in the security field in the Golden State, which is the reason why the state of California ranks among the best states for jobs in security.
Additionally, the state of California has a huge, disproportionate amount of high-profile celebrities, politicians, and international royalty, among others. The need to protect these highly visible citizens requires a lot of human resources and security specialists. California's coastal border is home to major port cities with a great need for protection and security against all kinds of threats.
New York
The majority of security jobs in the Empire State are centralized in the NYC area. However, security specialists are also needed in the Albany area – the state capital and across upstate New York in the Buffalo area near the Canadian Border.
Florida
The Sunshine State offers security professionals many different career options. Florida's coastline is more than 1,300 miles, which requires constant vigilance and watch for drug smugglers, among other illegal activities.
Additionally, the state of Florida is a prime entertainment playground that requires a strong presence of security professionals.
Related Rankings:
Top 10 States for Security Careers
What Makes Certain Cities Better for Security Careers?
There are many different types of security and cyber security jobs available to those who are interested in this specific field. Because of your interest, you have probably asked yourself –
Are there quality security careers near me?
Where can I find the best cities for cyber security jobs?
Which are the best cities for jobs in security?
The good news is that security and cybersecurity jobs are available across a variety of paths to careers in the security field.
According to the statisticians at the federal Bureau of Labor Statistics (BLS), Information Security Analysts will find the best cities for jobs in security, based on the highest annual median salary for 2019, as follows –
| Best Cities for Cyber Security Jobs | Annual Mean Salary |
| --- | --- |
| New York – Jersey City – White Plains | $130,360 |
| Newark & Philadelphia, NJ &PA Metro | $121,690 |
| Oakland – Hayward – Berkeley CA | $120,040 |
| San Jose – Santa Clara – Sunnyvale, CA | $119,790 |
| San Francisco – Redwood City, CA | $115,240 |
| DC – Arlington – Alexandria, DC-MD-VA | $114,340 |
| Best Cities for Security Career Highest Employment Level | Number Employed |
| --- | --- |
| DC – Arlington – Alexandria, DC-MD-VA | 12,220 |
| New York – Jersey City – White Plains | 5,320 |
| Minneapolis & Saint Paul | 3,200 |
| Chicago – Arlington Heights, IL | 3,030 |
| Dallas – Plano – Irving, TX | 2,990 |
| Boston – Cambridge – Newton MA | 2,540 |
| Atlanta – Sandy Springs – Roswell, GA | 2,430 |
---
Important Insights Regarding the Best Cities for Security Careers
The best cities for security careers in the mid and upper-level management positions include –
Washington, DC
Dallas, Texas
New York, New York
The best cities for security careers where responsibilities include ethical hacking or penetration testing were in Seattle, Washington, and the greater metropolitan area of Washington, DC, which includes areas in Maryland, Virginia, and West Virginia.
New York City
New York City is often called the world capital for several reasons. The world's largest and most influential stock exchange is located on the southern tip of Manhattan island. The many thousands of financial workers – managing billions and billions of dollars – create a huge demand for security specialists.
New York City is known as the Big Apple and is also home to many dignitaries (think the United Nations) and celebrities (think Madison Square Garden, Broadway, Culture) that need round-the-clock security both physically and through the many digital vulnerabilities that may cause harm.
NYC is also a primary government, education, and medical hub of the world.
San Francisco, CA
The greater metropolitan northern Californian area of San Francisco is often referred to as the technology/finance capital of the western United States. Given that reputation, it should come as no surprise that there are tremendous opportunities for those individuals interested in getting into the security information field.
And while most consider San Francisco's cost of living to be high, salaries for security information professionals are in line with other technological-oriented security careers. Northern California is home to large tech conglomerates, health care companies, hospitals, and governmental agencies – all of which require security professionals to operate safely and efficiently.
Chicago, IL
The windy city of Chicago is recognized among the largest of business centers located in the central portion of the United States. Chicago's population has an unusually high number of upper management Information Security Officers or Architects, with decision-making responsibilities.
Chicago is the headquarters for a number of Fortune 500 organizations that generate unusually strong demand for security and cyber security professionals and specialists. These companies include Marriott International, Howard Brown Health, Trustwave, Harpo Studios, and Price Waterhouse, to name a few. Chicago Illinois is also home to some of the finest institutions of higher education like the University of Chicago and Northwestern University, among others.
Atlanta, GA
The city of Atlanta often surprises many when they learn it is the United States' tenth-largest economy. Even more surprising is that within the city of Atlanta, there are so many Fortune 500 companies, the city ranks fourth in the country for the most Fortune 500 companies.
About three-quarters of Fortune 1000 companies choose to have a business presence in Atlanta, as a regional or local office.
Companies like Children's Healthcare of Atlanta, Coca-cola, Kroger Stores, Turner Broadcasting System, DISH Network, and Marriott International require information security specialists in auditing and forensics.
Dallas, TX
Like everything in Texas, the metropolitan area that makes up Dallas covers a 12-county metroplex. Together, this creates one of the most comprehensive and economically abundant economic centers in the nation. Many security positions in the Dallas metro area are mid to senior-level positions that require critical thinking and outstanding decision-making skills. Job opportunities include that of an Informational Security Director, a Chief Information Security Officer, or an Information Security Auditor, to name just a few
Dallas and its large surrounding metro area are home to JP Morgan Chase, Citibank, Capital One, Dish Network, and some of the largest sporting franchises in the world.
Related Rankings:
Top 10 Cities for Security Jobs
Washington DC, Virginia, and Maryland: Center of Federal Security Jobs
The city of Arlington, VA, which is situated across the Potomac River from Washington, DC is home to the Pentagon and the Department of the Defense – the federal security agencies are generally the largest providers of federal security jobs in the country, and likely, across the globe. These federal security agency jobs in the great DC, Maryland, and Virginia area, are not only plentiful, but they also offer a wide variety of security jobs like –
Federal security guard jobs.
A Federal Security Officer is an encryption expert.
Federal protective service jobs.
Government Security jobs overseas.
Federal government security jobs.
But note that the federal security officer salary will likely differ from other salaries like –
A federal security guard's salary
A federal security director's salary is based on the applicant's education and experience.
In addition to the federal security agencies that offer various security job opportunities in the greater DC metro area, there are also federal protective service jobs (like a federal security officer) in the private sector. These companies include CACI, General Dynamics, or Leidos, to name a few.
Anne Arundel County
Nearby, in Anne Arundel County, Maryland, there are many federal security service jobs located in the federal building housed in cities near and between Washington, DC, and Baltimore, Maryland. Anne Arundel County's seat is Annapolis – the beautiful coastal city that is also the capital of Maryland. Annapolis sits on the shores of the Chesapeake Bay and is home to the United States Naval Academy. Anne Arundel County is home to the National Security Agency and St. John's College.
Security career specialists can find work as security administrators and security engineers in the government and private sector in Anne Arundel County. It is noted that Fort Meade and Annapolis Maryland have an unusually high and disproportionate number of security information professionals employed in these areas.
National Security Careers
Many security professionals want careers in national security but wonder how to get a job in national security. Often, a national security career begins with a national security internship, which is sometimes by appointment, but not always.
If you have made the decision that you want to get a national security job or a national security internship, consider contacting or checking the job boards for –
The Federal Bureau of Investigation (FBI)
The Central Intelligence Agency (CIA)
The Department of Defense (DOD)
One of the Military branches
The National Security Agency (NSA), among others.
These jobs in national security and intelligence and other national security jobs work for secret intelligence operations, sometimes across the world, gathering data to protect US property and its citizens. Jobs in national security intelligence develop information and action plans against terrorist organizations seeking to harm others.
It is noted that many jobs in national security and even those in the intelligence community jobs boards are filled by individuals with military experience, especially those who have training as a ranger, SEAL or Green Beret.
National Security jobs with a cyber security specialty are often some of the most in-demand national security job opportunities. Cyber security information specialists holding national security jobs provide technical support to top-level military information that is highly sensitive and confidential. Cyber security national security jobs are highly trained technology and security professionals with a wide range of available national security careers.
Individuals applying for national security jobs undergo an intensive screening process on many levels like physical, physiological, emotional, and mental, to name a few. This comprehensive screening is required because most security specialists working in national security need to attain a top security clearance to be able to perform their job optimally.
It is noted that national security analysts are also in high demand from the private sector, often in think tanks or academic circles. Serious issues like weapons of mass-destruction are discussed and planned for in the protection of the country.
As one would anticipate, the majority of National Security Analyst jobs are located in the greater Washington, D.C., metropolitan area.
Related Rankings:
10 Federal Agencies for Security Careers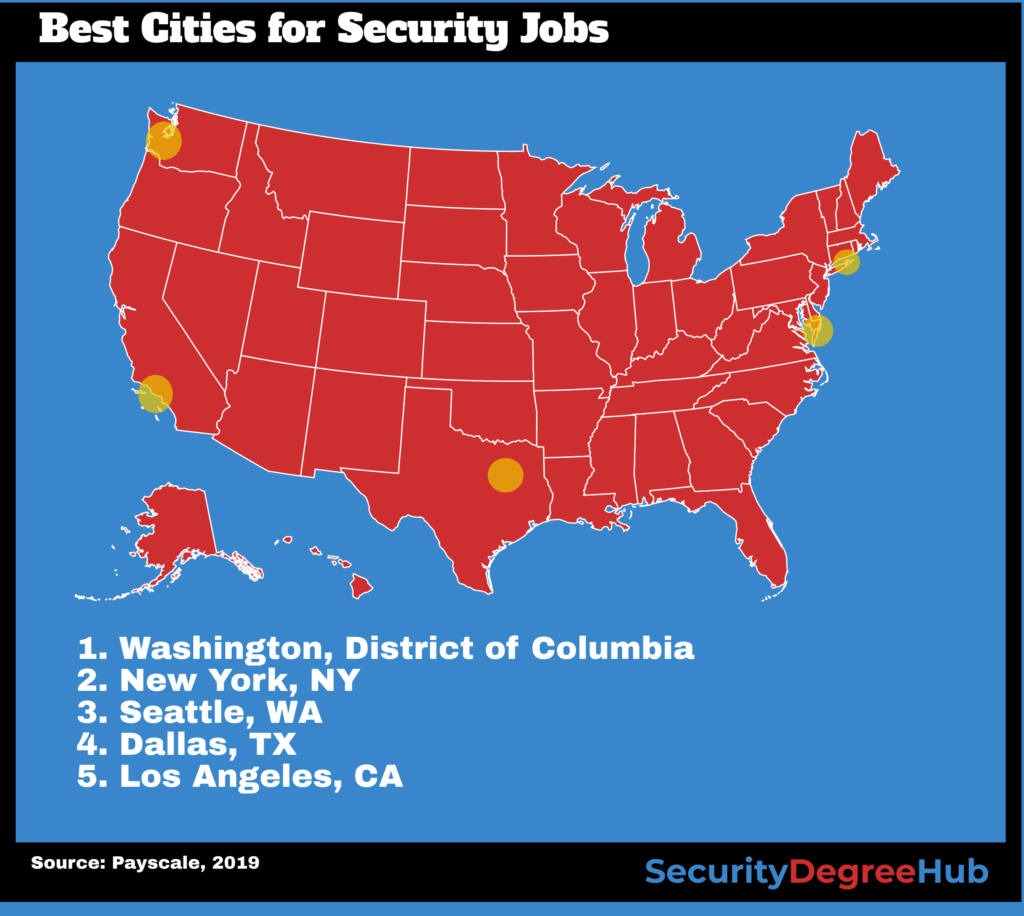 Emergency and Disaster Management Careers: All Cities, All States
For those individuals who want to pursue an emergency management career path (or an emergency management consultant career path) and are more concerned with the position rather than the job location, consider these careers in emergency management and suggested career tips for emergency management as you consider your career choices –
| Emergency Management Highest Employment Level by State | Number Employed |
| --- | --- |
| California | 760 |
| Texas | 680 |
| New York | 640 |
| Illinois | 550 |
| Pennsylvania | 400 |
| Highest Paying States Emergency Management  | Annual Salary |
| --- | --- |
| District of Columbia | $120,680 |
| California | $117,900 |
| Washington | $113,220 |
| Maryland | $106,310 |
| New York | $100,290 |
---
State By State Guides to Security Degrees and Careers